By Robert Tate, Automotive Historian and Researcher
Images courtesy of the National Automotive History Collection/Robert Tate Collection.
posted: 03.21.18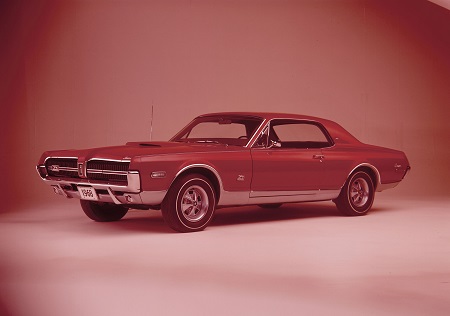 During the late 1960s and early 1970s, Ford introduced many successful and highly rated performance muscle cars that were very popular with the consumer market. From Mustangs to Cougars along with the 1970 Cyclone, many designs created special interest among young adults and fostered its own unique culture in America. For many years, the Ford nameplate has been synonymous with high performance, advanced engineering and great looking muscle car designs.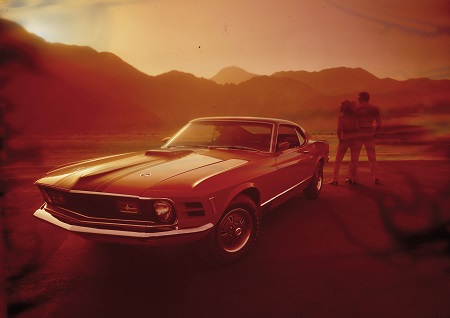 One of the most popular and great looking cars Ford introduced was the Shelby GT Fastback with a 350 V8 engine (not shown). Some automotive historians called it a wildfire car. It was priced at $2,900.

The 1968 Cougar was very popular among young adults, who had admired the car since its introduction in 1967. The Cougar GT-E model was priced at $3,336 and won many awards for its styling. The 1968 Cougar models featured the same body design offered in 1967, the year it received Motor Trend's Car of the Year Award. Cougar GT-E models were available in 11 great looking color combinations and sported a 7.0 liter Cougar 427E V-8 engine, which many drivers thoroughly enjoyed.

For the 1969 model year, Ford introduced an all new sleek Mustang boss model that greatly excited the public. The model offered the consumer a 302 or 429 cubic inch engine. I always thought that the functional rear spoiler was very tastefully designed. Another great looking design that year was the standard production Mustang Mach I model, a great performance car that offered a great looking air-scoop, racing stripes and a rear deck spoiler. Today, both models are extremely collectible and rare. A very popular Shelby Cobra was also on the list of Ford's great looking muscle cars for 1969 (not shown).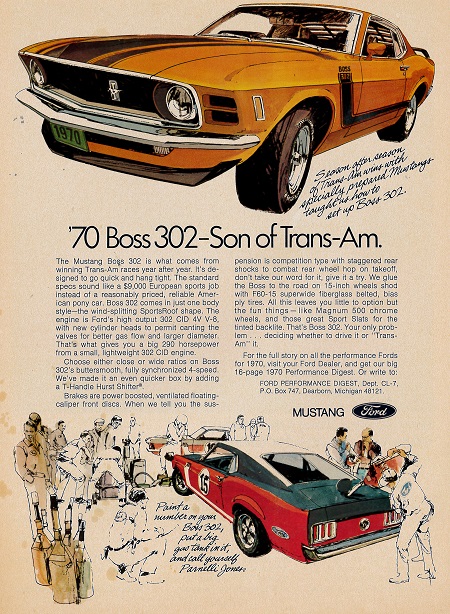 In 1970, Ford continued making and designing great looking muscle cars. The 1970 Mustang was hot and sold very well. The young culture loved the vehicle, and its performance was great on the track for racing and driving. The 1970 Boss 302 Son of Trans-Am was a popular car. The Mustang Boss was available either as the Boss 302 or as the Boss 429 - SCJ engine. The models featured front and rear spoilers, rear window louvers and its distinctive striping that created a great looking performance car. Ford also had other great looking models in their Ford model lineup for 1970.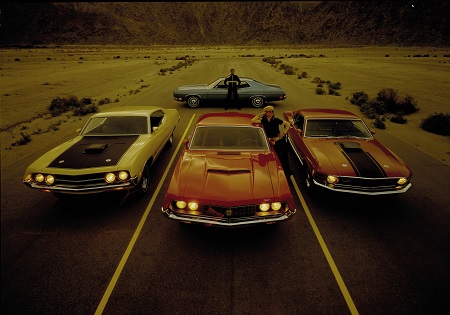 The newly designed Torino models for 1970 were very attractive. The Torino GT and Brougham models featured disappearing headlights. The GT line also included a convertible. However, the most popular Torinos were the new Cobra models. Ford unleashed these great looking models on the public with anti-glare rear window louvers and an anti-glare black racing hood that young adults really admired. Ford's advertising called the Cobra models "Torino Cobra - Striking Power!"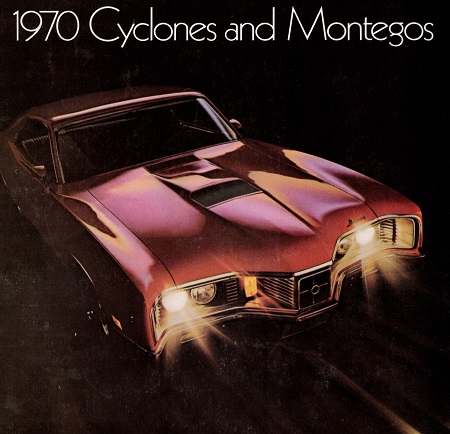 1970 was a great year for muscle cars with a remarkable series of outstanding advertising on Ford racing and its hot engines. Ford sales were also strong during this model year. The 1970 Mercury Cyclone models featured great looking designs. The Cyclone Spoiler was a tough car and an all action machine equipped with a standard Cyclone Spoiler 4-speed transmission, a Hurst Shifter, a choice of five special competition colors, semi-functional air spoilers, a popular ram-air scoop on the hood, racing mirrors, and high back bucket seats. The Cyclone models came with a price tag of $3,759.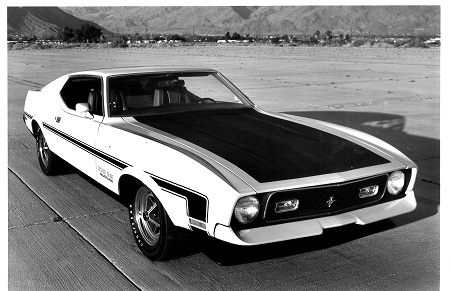 Finally, let's talk about the 1971 Boss 351 Mustang. The Boss of 1971, replaced the Boss 429 and the Boss 302. The 1971 Boss 351 Mustang preserved the car's high-performance heritage, featuring a competition suspension package and a potent 351-cubic inch Cleveland engine, which would be one of Ford's most successful and long-standing V-8 engines.

Today, Ford muscle cars from this era are very collectible and expensive.

Bibliography
Dammann H. George. "Illustrated History of Ford" Crestline Publishing 1971.
Dammann H. George. "Fifty Years of Lincoln Mercury" Crestline Publishing 1971.
Frumkin MJ. "Classic Muscle Car Advertising: the Art of selling Horsepower" 2002.
---