By A. Wayne Ferens
Photos from the Wayne Ferens Collection, Ford UK and Ford Motor Company
Published 10.24.2018
Today, most major automobile manufacturers are considering or already have in their model lineup hybrid vehicles (gas engine + battery-driven electric motor) or pure electric vehicles (EVs) that have an electric motor and are powered completely by a rechargeable battery. Ford Motor Company was one of the first manufacturers to consider EVs for mass production over 50 years ago. At that time the lead-acid battery was readily available and inexpensive, but certainly had its limitations as far as powering a sizable passenger vehicle for a reasonable distance.
With urban London commutes in mind, Dearborn directed Ford of Britain to design a small electric prototype in the 60s they called the Comuta. It was first shown to the public at the 1967 Geneva Auto Show and featured a tiny box-shaped fiberglass body mounted on a Lotus Elan-type backbone sheet metal chassis that contained four aircraft 12V lead-acid batteries and twin 5-hp DC electric motors. According to Ford U.K., the Comuta was only good for 40 miles on a charge at a 25 mph pace. It had a top speed of 40 mph. At the time, Ford stated with further development similar vehicles would be on the road in city centers and short suburban runs throughout the euro-continent by the mid-1970s.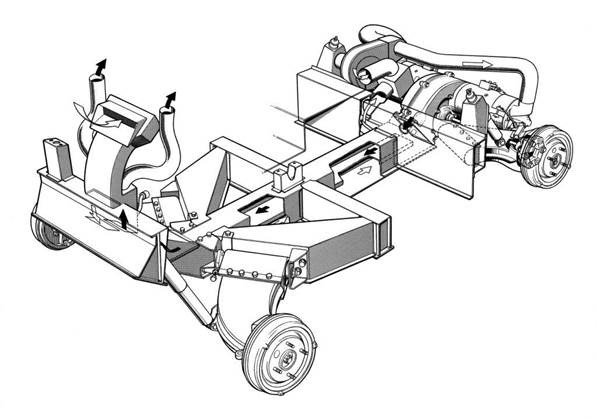 Comuta sheet metal chassis design (Wayne Ferens Collection)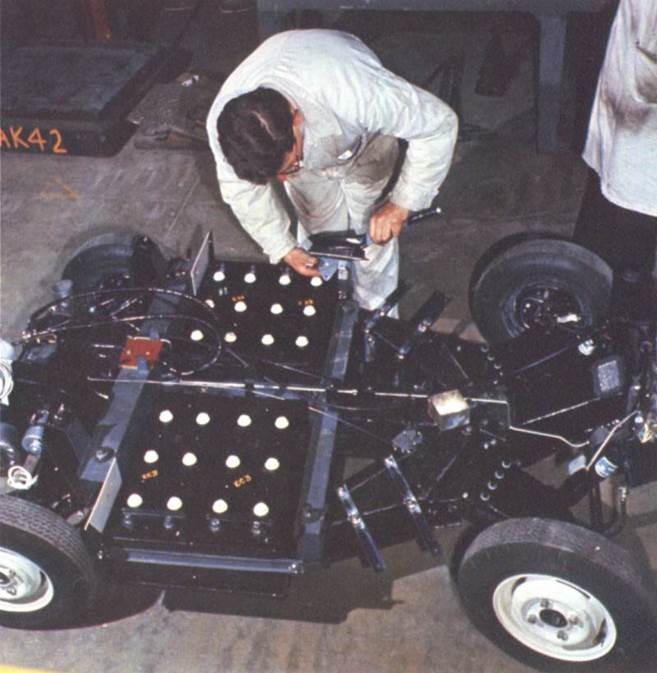 Comuta chassis with lead acid battery packs installed (Wayne Ferens Collection)
Two Comuta prototypes were built for testing and show. With the limited range of chargeable lead-acid batteries, Ford realized that their focus had to be in the development of new and improved battery chemistry. One of the two original Comuta EVs still exists and is part of the collection at the Science Museum in London.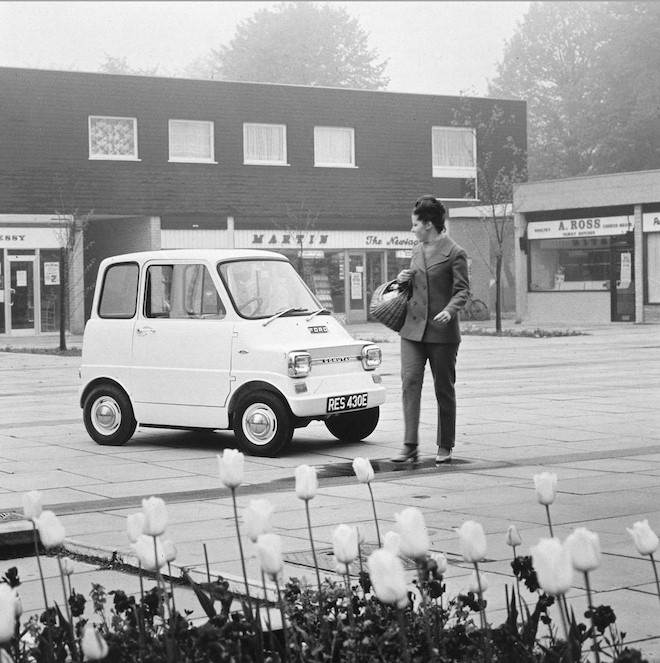 Finished Comuta on public display in the UK (Ford UK Photo)
Meanwhile, new "battery chemistry" was underway at Ford research back in Dearborn. The federal government had already been drawing up regulations and support to cut air pollution caused by gas-powered cars. On October 3, 1966, Michael Ference, Ford vice president for scientific research, stated in a company presentation: "The internal combustion engine will continue to be the most practical form of power for long-distance and expressway driving for sometime to come", -- but conceded that there was room for an EV for short-range urban and suburban driving.
It was the introduction of a bill calling for federal aid to subsidize development of battery-powered vehicles that motivated Ford to come up with a formula using a sodium-sulfur chemistry replacing lead-acid. This breakthrough would mean a car about the size of a Ford Falcon could go 80-90 miles at 50 mph on a single charge. According to Michael Ference, with the new batteries, its electric car system could store 15 times more energy than before -- and deliver acceleration in the first four seconds -- faster than an internal combustion engine. Ford was also in the process of developing smaller more powerful motors and controllers.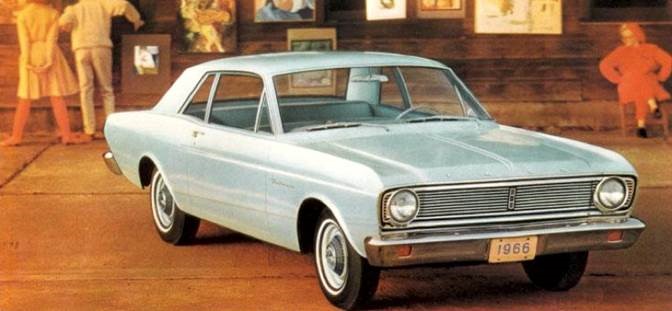 The Ford Falcon was considered for electricification in the late 1960s (Ford Motor Company brochure image from the Wayne Ferens Collection)
It wasn't until 1997 that Ford got serious about producing an electric vehicle, but on a limited commercial basis. The vehicle of choice was a Ford Ranger light truck chassis that used both lead-acid (1998) and nickel-metal hydride (NiMH) batteries until production ended in 2002. The vehicle used a 90 hp three-phase AC Induction Motor with a 3:1 single speed reduction transmission integrated with motor and differential. The EVT had a range of about 80 miles with the NiMH batteries. Most vehicles were leased for fleet use, were terminated in 2003-04, and all were recalled by Ford Motor Company.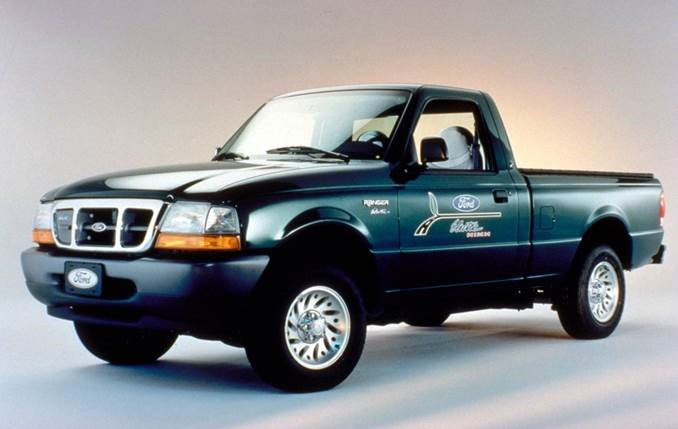 Limited production electric-powered Ford Ranger used lead acid and NiMH batteries (Wayne Ferens Collection)
Back in the U.K., Ford introduced the Ford Focus BEV electric car at the 2009 Frankfurt Motor Show. The concept BEV used the European Ford Mark II as its donor vehicle and incorporated components from Ford's North American-developed technology. A small demonstration fleet of Focus BEVs were tested in and around London for several years, but It was never put into production.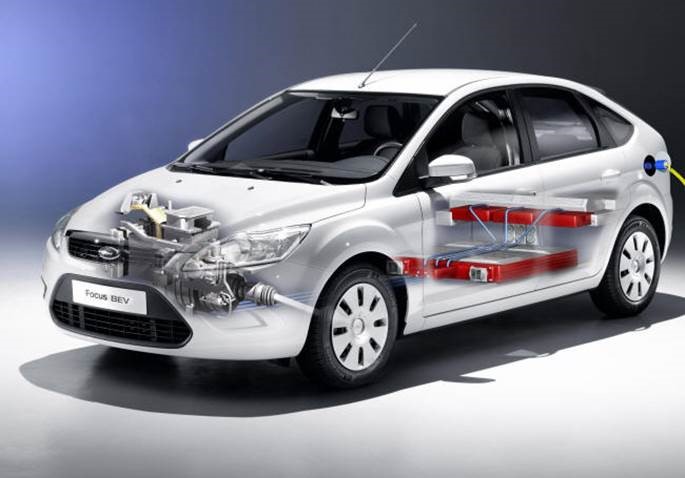 Ford Focus BEV electric vehicle first shown at the 2009 Frankfurt Motor Show (Ford UK Photo)
Ford introduced a Focus all-electric, pre-production car in 2011 at the Consumer Electronics Show in Las Vegas that would become the company's first U.S.-manufactured pure electric vehicle to be offered to the general public. The Focus EV shares Ford's global C-car platform, is powered by a synchronous electric motor rated at 107 kw (143 hp & 181 ft-lbs torque), and uses a LG Chem lithium-ion 33.5 Kwh battery pack that provides a claimed all-electric range of 140 miles. Today, this low-volume, battery-powered electric hatchback is Ford's only EV on sale in the world. Still available in 2018, this EV has aged well with its handsome lines and sporty looks.
In 2015, Ford management announced a plan to spend $4.5 billion over the next four years to develop 13 new electric or hybrid vehicles that will include a F-150 Hybrid pickup truck, Mustang Hybrid sports car and Transit Custom plug-in hybrid van. Ford also plans to launch a fully electric unnamed SUV with an estimated range of at least 300 miles and two new electrified police vehicles. Ford has been testing EV prototypes in Europe, Asia and North America where they will be sold. Ford is also developing wireless technology that makes recharging an electric vehicle as easy as pulling into a parking spot and plugging in a charger. Technology is changing the world, and Ford will be changing the way we get around it. Now that's exciting ...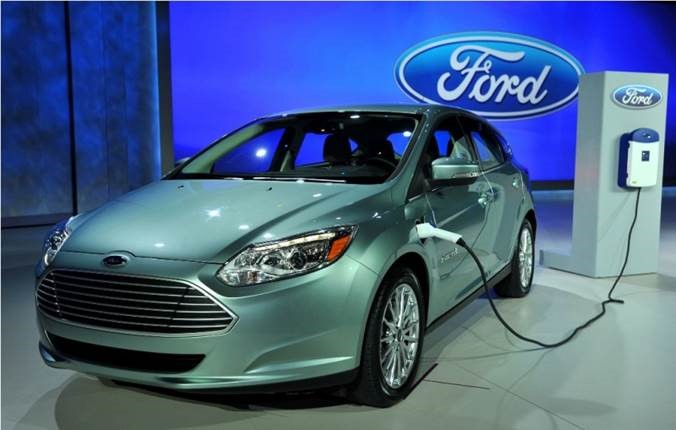 Ford Focus all-electric on display at the 2011 Consumer Electronics Show in Las Vegas (Wayne Ferens Collection)