By Robert Tate, Automotive Historian and Researcher
Images courtesy of General Motors/Robert Tate's collection
Posted: 06.20.2018
One of the most gifted, talented and creative designers that General Motors introduced to the public during the 1920s was Harley Earl. His designs became a part of our automotive history and culture. Earl made the American consumer look at automobile design and styling differently.
I had the opportunity to learn more about Harley Earl and his design philosophy when I was a student at the College for Creative Studies during the early 1970s. Earl's career and outstanding success with General Motors started in the 1920s, when GM's great looking Cadillac LaSalle was introduced to the public. The model received great reviews from the buying public as a stylish and great looking automobile. The 1927 Cadillac LaSalle was an expression of Mr. Earl's design projections.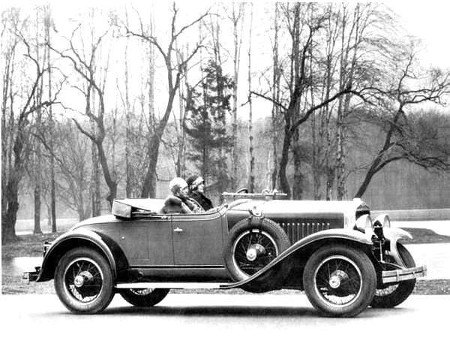 1927 Cadillac LaSalle (Robert Tate's Collection)
The "Art and Color Section," which was created by GM Chairman Alfred P. Sloan, created and established a history book filled with great automotive designs admired by enthusiasts all over the world. After the Cadillac LaSalle made automotive history, the beautifully designed "Y" Job followed (not pictured in this story). The "Y" Job concept model was designed by George Snyder. The model was a two-passenger sports convertible based on a standard Buick chassis.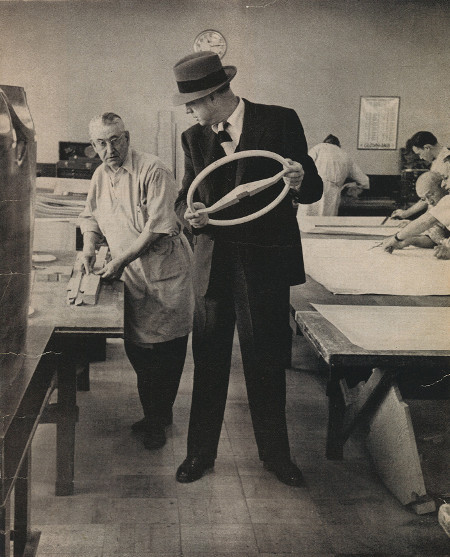 (Robert Tate Collection)
A classic image above is styling boss Harley Earl inspecting a mock-up of a suggested steering wheel for the LeSabre. The actual wheel was a steel alloy, coated with plastic for hand-warmth and chrome-plated for appearance.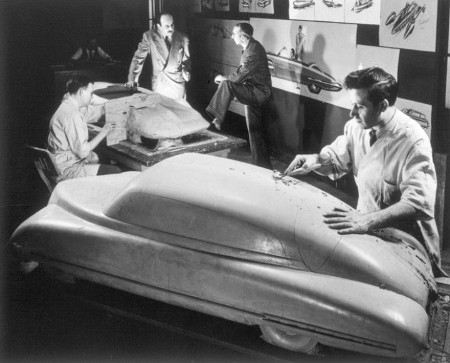 (General Motors archive)
Some of the most popular designs that came out of the design studio were the stylish 1948 Cadillac models (not pictured). They were great looking automotive designs with that aircraft tail end design that became a trend setter for other companies during the 1950s. The 1948 Cadillac models became one of the most admired postwar automotive designs in history. After the war ended and before Earl's retirement, the 1950s brought more fins, chrome and glitter.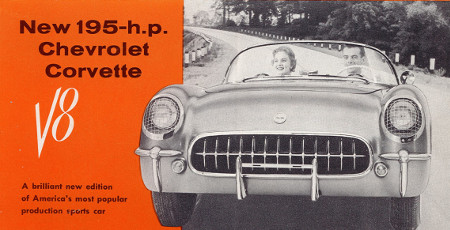 Chevrolet Corvette brochure (Robert Tate Collection)
GM introduced the Chevrolet Corvette in 1953, a great looking automotive design that consumers thoroughly enjoyed and admired to this day. The early Corvette models, which were made of fiberglass, became America's first production sports car and a powerful expression of Earl's ideas about car design. The LeSabre show car, as well as the popular Fire Birds I, II and III (not pictured), also made their design mark in the automotive history books.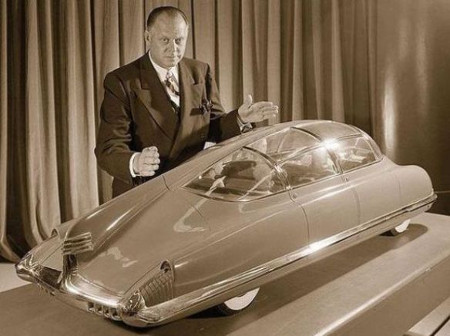 Harley Earl (General Motors archive)
During the 1950s, some of Chevrolet's models were called the "Hot Ones." The 1955-1957 Chevrolet models were great looking automobiles and are still very popular today among enthusiasts. However, the 1956 Chevrolet model pictured in this story highlights a very cool rear-end image, one of Chevrolet's most memorable and stylish designs. The 1956 Chevrolet models offered style and great engineering as well. However, one of the most stylish 1956 models was the four-door Bel Air hardtop with its sleek design. A popular feature on 1956 Chevrolets was the hidden fuel filler cap that was located on the left side of the rear end taillight. The 1956 line was offered in a One Fifty series, Two-Ten and Bel Air models with a total of 19 different body styles. GM called the 1956 Chevrolet models "Motoramic Styling."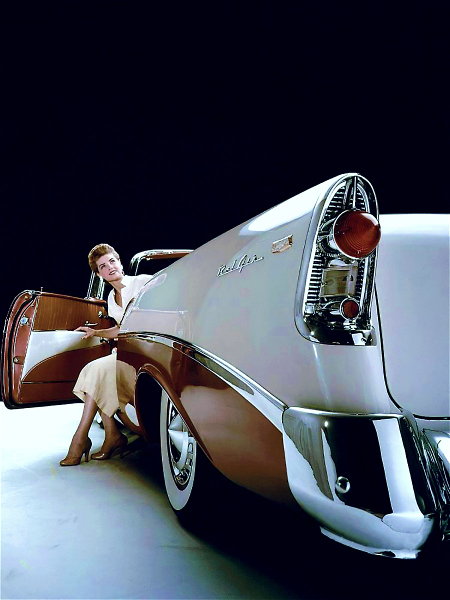 1956 Chevrolet Bel Air (General Motors archive)
The last image of the story (below) is an illustration created by talented artists Art Fitzpatrick and Van Kaufman for GM's 50th anniversary year catalog in 1958. GM celebrated 50 years of styling, a part of Earl's legacy. The illustration highlights a 1958 Cadillac Fleetwood Sixty Special Sedan that is absolutely beautiful and admired by automotive enthusiasts for many years. The 1958 Cadillacs were called the "Milestone Masterpiece" by GM in its 50th anniversary catalog.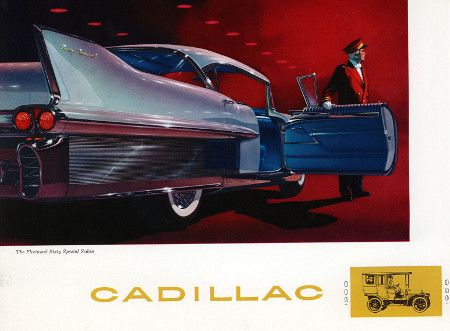 (Robert Tate Collection)
In conclusion, Harley Earl and the talented General Motors designers developed great design ideas that will always be a part of our automotive history. For more information on GM's exciting images, contact the GM Photo Store at gmphotostore.com.
Bibliography
Bayley, Stephen. "Harley Earl and the Dream Machine." 1983.
Lamm, Michael & Holls, Dave. A Century of Automotive Style: 100 Years of American Car Design. 1996.
Chappell Pat. "The Hot One: Chevrolet, 1955-1957." 1977.