By Robert Tate, Automotive Historian and Researcher
Images Courtesy of Robert Tate's Collection and the Worldwide Web
Published 10.10.2018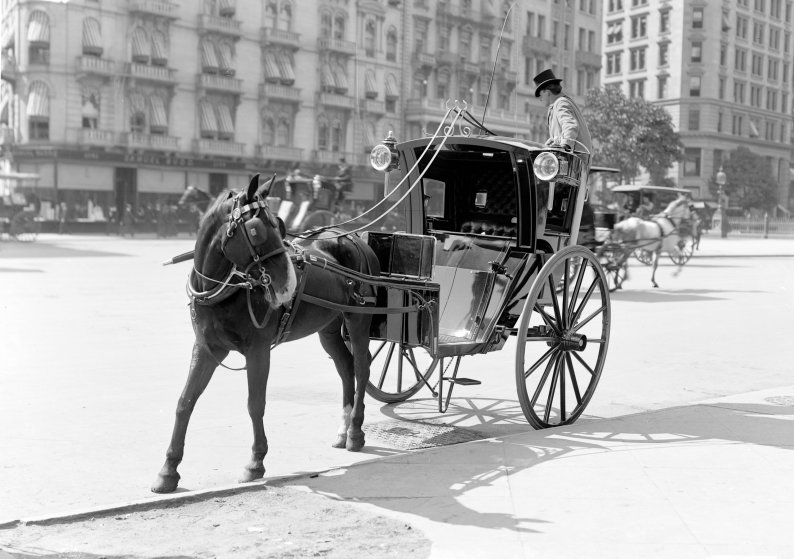 A horse-drawn cab in New York City, early 1900s
One of my favorite classic movies is a movie called "The Yellow Cab Man," which featured the late actor and comedian Red Skelton. The movie came out in 1950 and was a great success in theaters. Today, the movie is considered classic.
This is a brief history of the taxicab industry, which has provided a great service for over 100 years to American consumers. Historians have said for many years that the first documented horse-drawn carriage for hire started in London during the 1600s. The first taxi stands, however, did not appear until 1636. During the 1800s, Joseph Hansom created a smaller, lighter carriage in England that only required one horse to pull it. As a result, this travel method would become very popular for city traffic when traveling between many locations.
Fast-forward to 1907, when Harry Nathaniel Allen created the New York Taxicab Company. Allen imported 600 gasoline-powered vehicles from France to make his operation profitable and successful for a short time until labor unrest put him out of business. Allen, incidentally, was the man who coined the hybridized word "taxicab."
In 1922, Morris Markin started the Checker Cab Manufacturing Company, which later would become a huge success for the American Checker Automobile Company. By the early 1920s and 1930s, the taxicabs were beginning to offer great styling and features. As automobile designs were changing, the taxicab industry was also changing and coming up with better ways to serve the community. Many guidelines and regulations were put in place, so the drivers would receive fair compensation for their services and passengers would pay acceptable fare prices.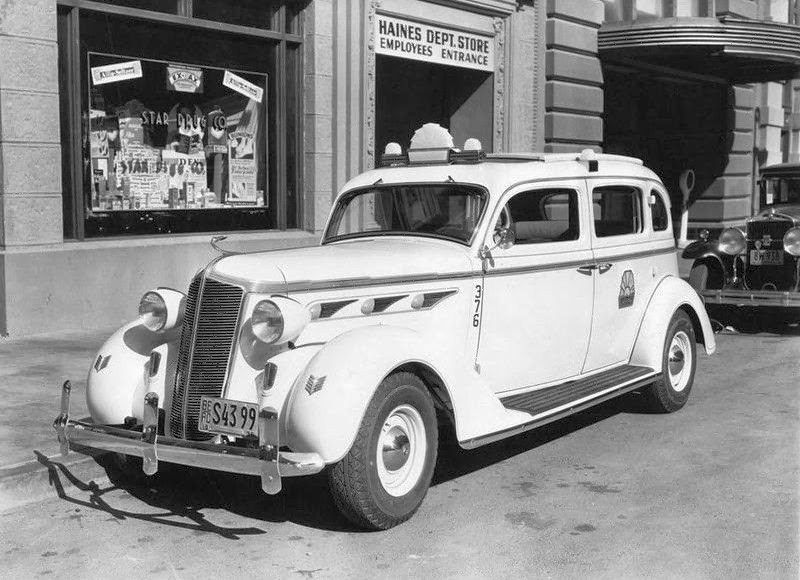 1935 DeSoto Taxicab (CurbsideClassic.com)
During the 1930s and 1940s, DeSoto and Plymouth models became very popular for taxicab fleets. They offered a great deal of space and style. For example, in 1935, Plymouth and DeSoto offered the taxicab industry a seven-passenger sedan model with larger tires than traditional consumer vehicles. They also offered a fleet of Airstream DeSoto four-door sedan models specifically painted and fitted for the Yellow Cab Company.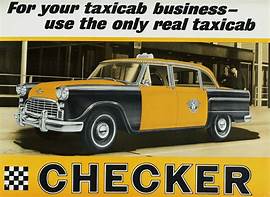 A Checker Cab ad from the 1960s (Robert Tate Collection)
In 1923, the Checker Motors Corporation moved to Kalamazoo, Michigan. The first passenger utility models were offered in 1931 and 1932. The timeless sedan, the Superba, based on the A8 taxi, was introduced in 1956.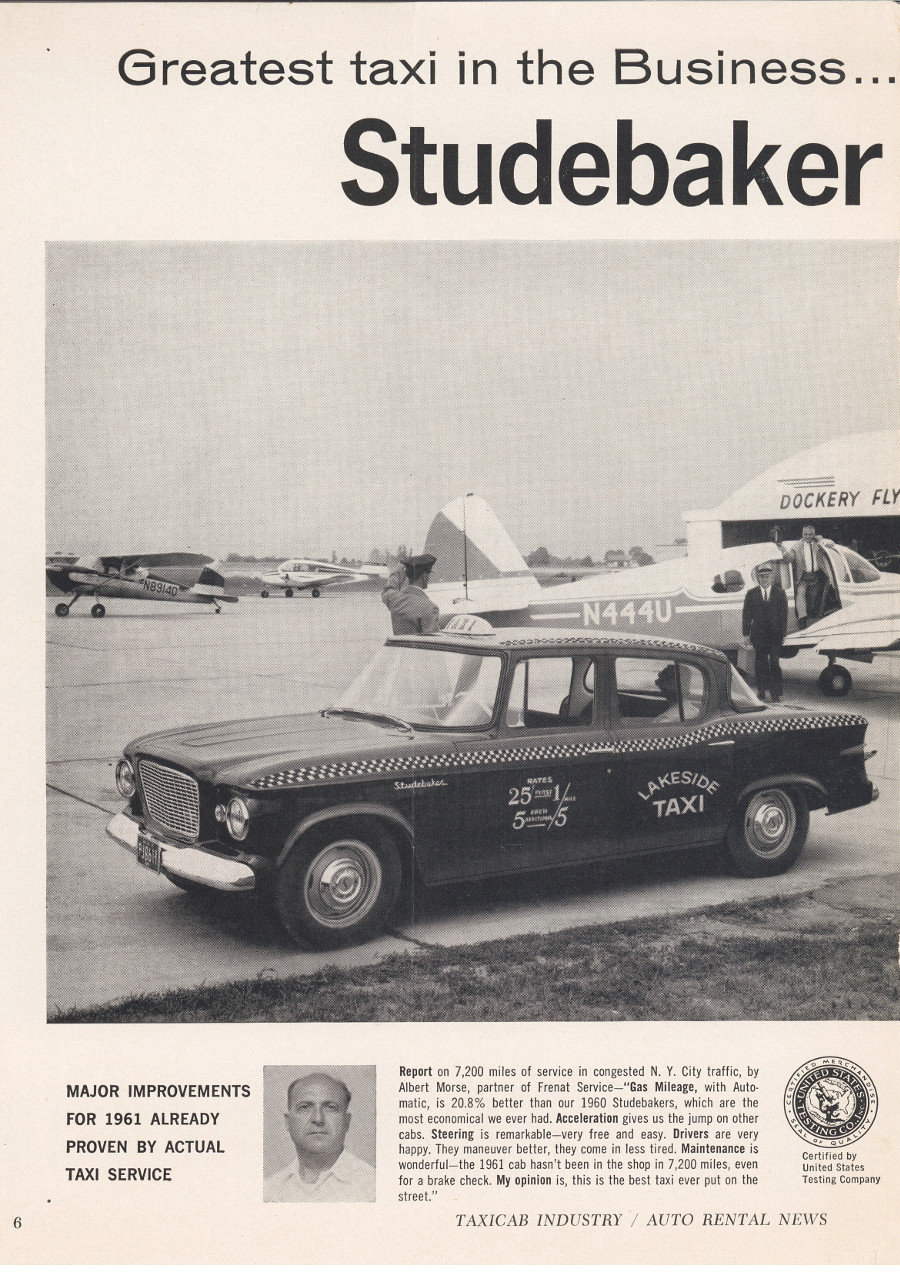 1959 Studebaker taxicab ad (Robert Tate Collection)
Studebaker and Rambler models were also a part of the taxicab fleet service during the 1950s. Rambler advertising said it was "designed and built for heavy-duty." Studebaker in 1959 sold many taxicabs, including a special model offered that was 4.5 inches longer than the standard four-door Lark sold to consumers.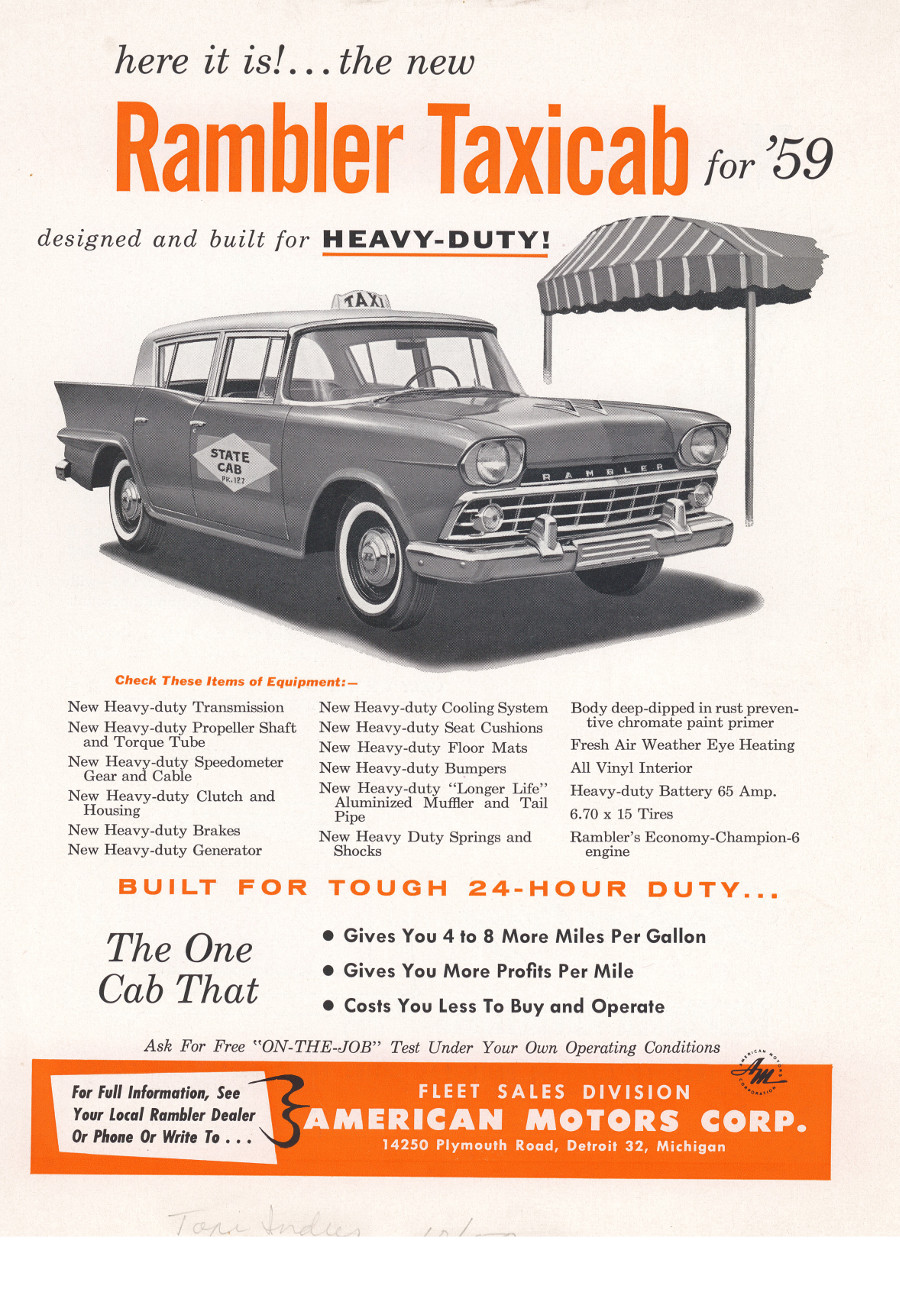 A Rambler taxicab ad from 1959 (Robert Tate Collection)
Throughout the 1950s, Ford and Chevrolet also had great fleet sales for the taxicab industry as well. In addition, the Plymouth models for 1968 were great looking vehicles sold by the Chrysler Corporation, and their taxicab models offered a choice of engines and a variety of interior and chassis features.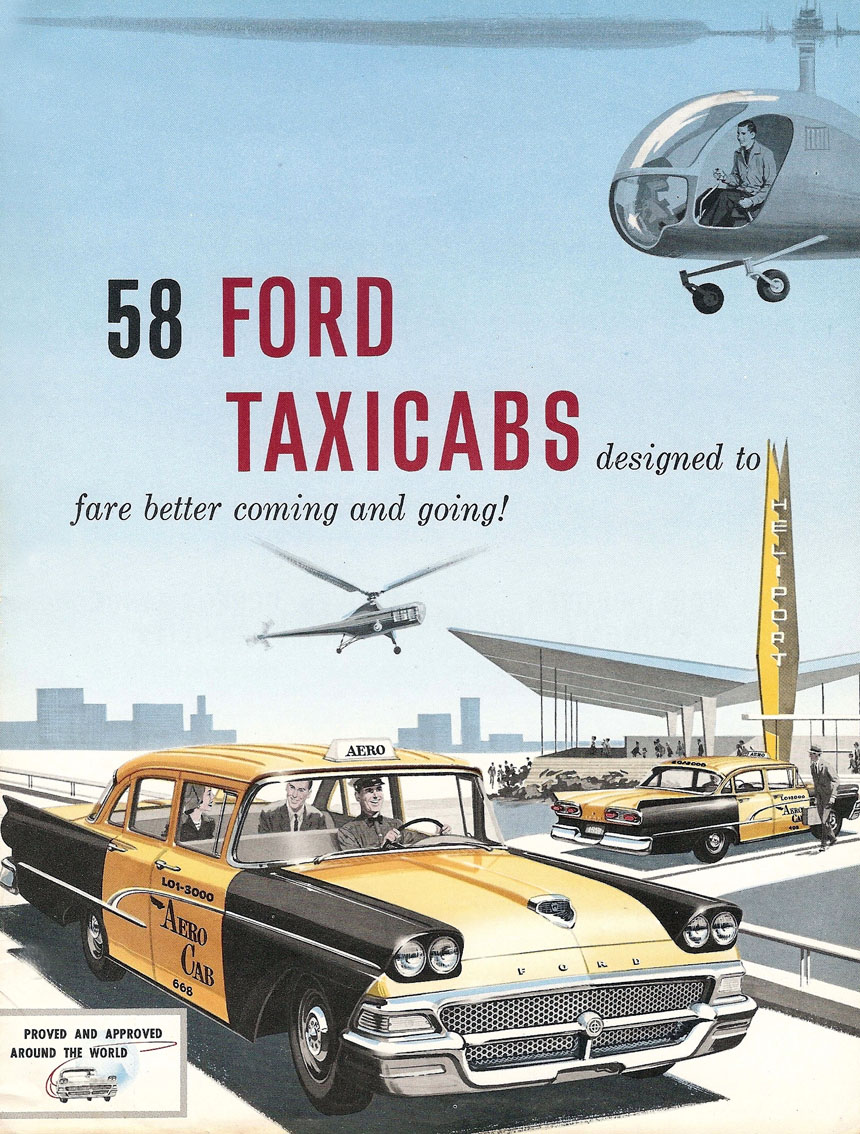 1958 Ford taxicabs ad (Robert Tate Collection)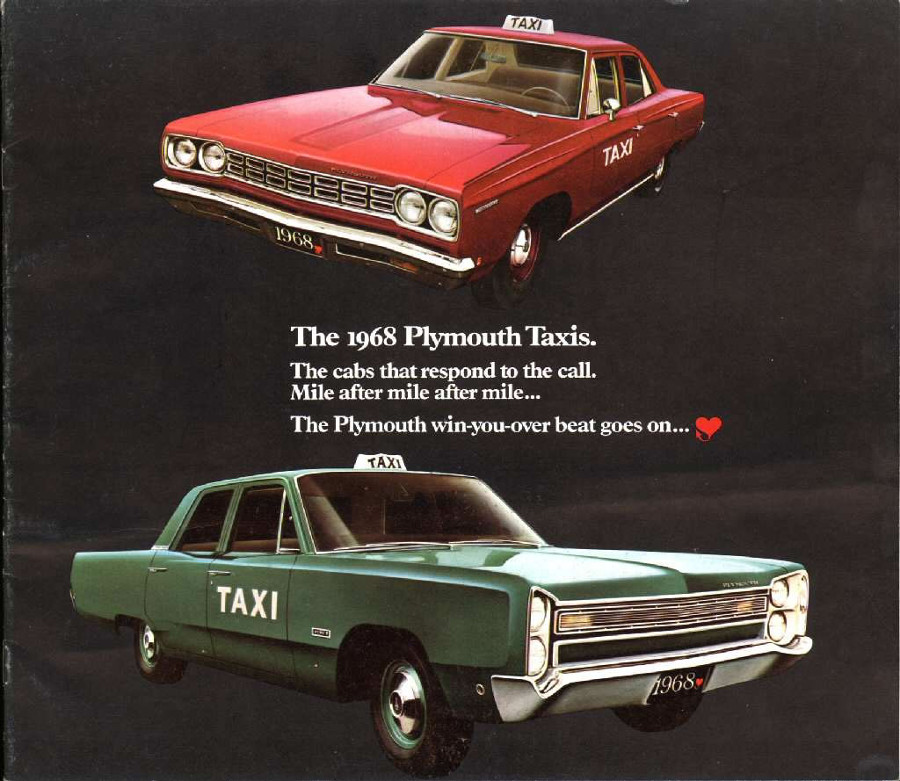 A 1968 Plymouth taxicab ad (Robert Tate Collection)
Finally, the toy industry also made taxicab models for children in mass numbers during the 1930s through the 1960s, which were distributed throughout to many American retailers. I added a taxicab toy from my own personal collection from the 1950s, a Plymouth model from the Dinky Toy Company that was popular among children of the era.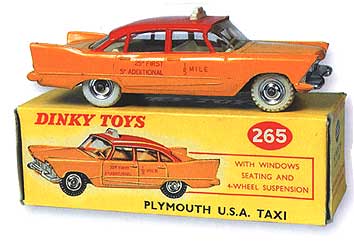 1958 Plymouth taxicab by Dinky Toys (Robert Tate Collection)
Bibliography
Butler, Donald. "The Plymouth-DeSoto Story." Crestline Publishing, 1978.
Reynolds, Ed. "Studebaker Lark 1959-1966 Photo Archive." 2003.
Foster, Patrick. "Studebaker The Complete History." 2008.