By Wayne Ferens
Posted 02.17.2017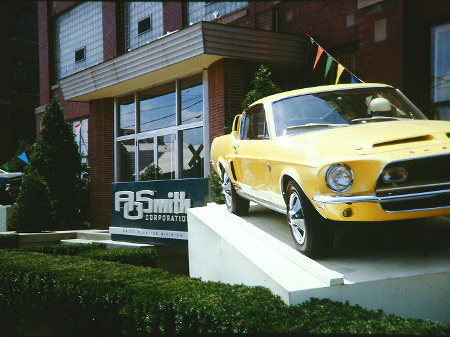 The Shelby Mustang is a high-performance variant of Ford's production Mustang and was built by Shelby American from 1965 to 1968.
Ford Motor Company produced the Shelby version in 1969 and 1970. In 1967, a GT 500 was added to the Shelby lineup powered by Ford's 428 cubic-inch FE Series engine outfitted with dual-four barrel carbs sitting atop a medium-rise aluminum intake manifold.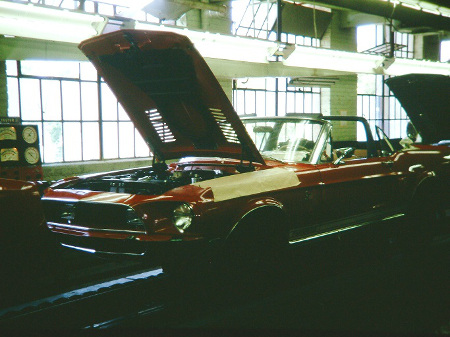 In September, 1966, when Ford started shipping the '67 Mustangs to SAI for conversion, Shelby was having financial and production problems (quality) forcing Ford to take control over engineering and purchasing. A company in Ionia, Michigan, the A.O. Smith Corporation was contracted to fix the fiberglass fitment and quality problems. Six months later, in May 1967, the decision was made to terminate the California-based Shelby operation. In August, 1967 Ford moved its small engineering staff and left-over Mustangs to A.O. Smith Corporation that had a multi-level production facility in Ionia.
The 1968 Shelby Mustangs were only built for 9 months. All the Mustangs destined for Shelby conversion were produced at Ford's Metuchen assembly plant in New Jersey. The cars were shipped by rail to A.O. Smith. The "knockdown" Mustangs were shipped in running condition, some had stock Mustang hoods and some had fiberglass. The cars were shipped without front grille assemblies, taillights and valences. All the cars had steel wheels.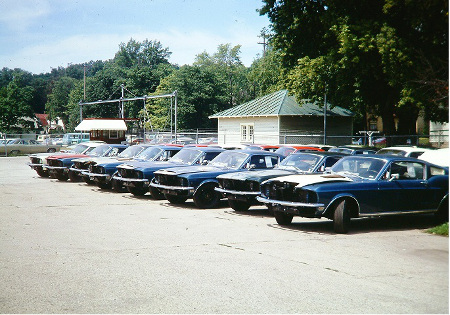 Once unloaded all cars had the fluids checked, inspected for mechanical and cosmetic defects. After inspection the cars were taken to the production area where they would pass through various 'stations' during the moving assembly process.
Workers first disconnected the battery then removed seats, carpets and interior trim panels. All the cars had a roll bar welded in and the rear taillight panels were modified to accept the new sequential lights. A/C cars were prepared to receive special oil coolers. Under the hood, stock air cleaners were removed and set aside.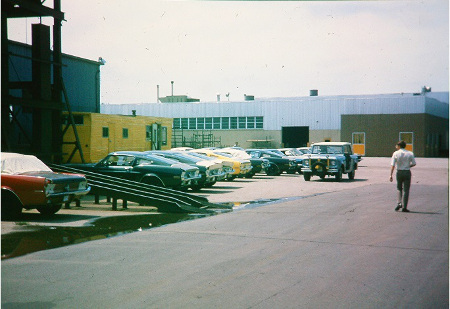 The oil pressure wiring was modified for the Stewart Warner gauges. Cobra valve covers were installed and in the front special bumper extensions were added. New fiberglass headlight buckets, valences and hoods were also added. In the rear, fiberglass decklids and end caps were installed. Side scoops were added and fastback cars also received upper air extractors. Each car was assigned a special serial number with a special VIN plate attached. Early cars received Marchal fog lights with later cars having Lucas lights.
New Shelby Cobra seat belts were installed along with a unique center console. Under the dash, new flasher assemblies had to be installed to make the taillights flash correctly. Interior panels were now reassembled. Every car received a set of rocker panel stripes. These stripes came in three colors: black, white and blue. Each set matched an exterior color and model designation.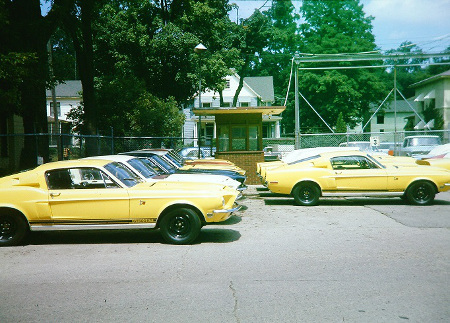 In the beginning there were GT 350s and 500s. In May '68 the new Shelby GT500KR started being produced. Only 1,571 were made in May, June and July. Fiberglass parts were painted to match the original Mustang colors. Seven exterior colors were available with two different interior colors. Heat lamps were used in the drying process.
During final inspection all codes and body tolerances were checked. Decals, owners manuals and a front license plate bracket were put in their proper place. A box of new hubcaps (4) and radio antenna were placed in the trunk of each car. These were installed at the dealer during prep. Only a handful of cars left the factory with the optional ten spoke alloy wheels. The conversion process at A.O. Smith Corp. continued into the fall of 1968. During those nine months A.O. Smith also produced the Mercury Cougar XR-7G.
In the summer of 1969 the agreement between Carroll Shelby and Ford Motor Company was terminated.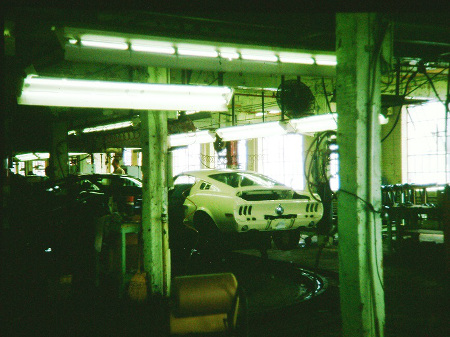 Wayne Ferens is retired after a 45 year career in the automobile business that included General Motors, Ford Motor Company, Honda Motor Co. and new car dealer. Auto history is one of his passions and has written much about the industry. He is presently a SAE Board Member.
---