By Robert Tate, Automotive Historian and Researcher
Images courtesy of Robert Tate's Collection
Posted: 02.27.2017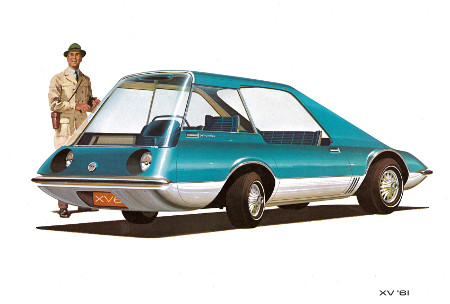 During the 1960s, many U.S. steel companies introduced great looking concept designs for the future for marketing purposes. The companies said, "Stainless steel will help bring dramatic and exciting improvements to your world of tomorrow.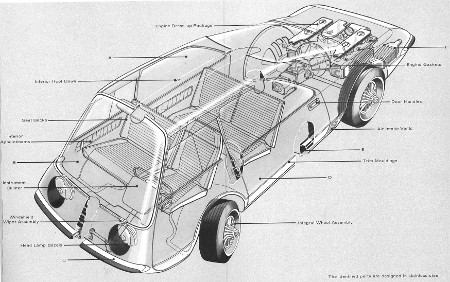 The transportation engineers and designers of the day knew that systems and improvements would be needed to accommodate the increasing population with growing demands of transporting people and things with speed and safety.

The McLouth Steel Corporation, which was located in Detroit, introduced a highly futuristic looking concept car design called the XV '61. The XV '61 concept design could accommodate four passengers, and offered large windows and high doors along with a unit body construction.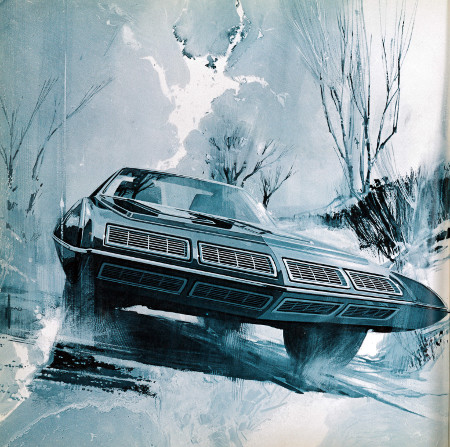 1966 USS Steel Innovari concept car, another example of American steel companies' foray into auto design and manufacturing. The exterior of the XV '61 presented an interesting contrast. The upper part of the body structure had combined the richness of satin-finished stainless steel with a blue translucent coating. This was accented by natural brushed stainless below.

The William M. Schmidt Associates Company had developed the vehicle design, selecting one of the most talented concept car designers of the time who did a lot of work with the U.S. Steel Corp. – the great Syd Mead.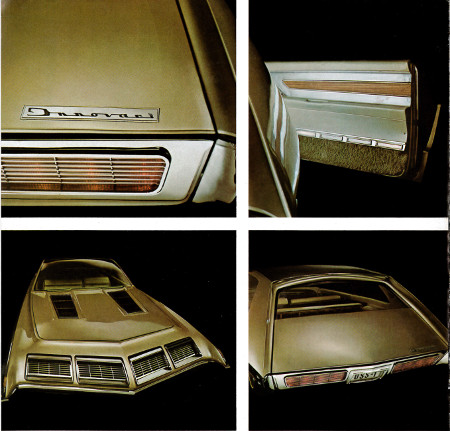 1966 USS Steel Innovari concept car, another example of American steel companies' foray into auto design and manufacturing. It should be noted that Mr. Mead will be the honored guest this year at the Eyes On Design 30th anniversary Automotive Design Exhibition on Father's Day, Sunday, June 18. Eyes on Design will return to the beautiful grounds of the Edsel and Eleanor Ford House in Gross Pointe Shores, MI. Syd Mead was tapped as the featured poster artist and created an illustration this year depicts the car show 30 years from now in 2047.

Artist and "futurist" Syd Mead has had a long and great history and career with the United States Steel Corporation. Over the course of a long career working with steel, automotive, technology, films and other companies, Syd has illustrated a great number of beautifully detailed illustrations that many people, including myself, have fond memories of and have thoroughly enjoyed.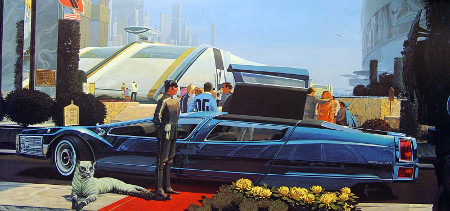 Syd's career started many years ago when he became a student at the Art Center School in California although he originally hailed from St. Paul, Minn., where he was born on July 18, 1933. Later, that school would be renamed to the "Art Center College of Design Pasadena."

After graduating from college, Syd went to work for the Ford Motor Company in 1959. At Ford, he was a part of the advanced styling studio team under the management of the late Elwood Engle. As design managers at Ford recognized Syd's talent for futuristic renderings, he received a variety of prestigious assignments to illustrate several books such as "Innovations," for the U.S. Steel Co. Other book opportunities followed including International, Harwood Taylor & Associates and many more as well would follow.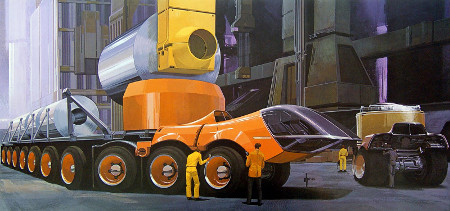 In 1979, Syd began to illustrate great works of art for major studio films such as "Star Trek," and later "Blade Runner," "TRON (2010)" and "Mission Impossible 3."

In conclusion, in February 1998, Syd Mead relocated his studio to Pasadena, California where he continues to be a part of many design projects. Today, he recently completed design work on a documentary of his career with director Joaquin Montalvan titled "Visual Futurist."

A special thanks to Robert Tate, Automotive Historian and Researcher, for contributing this story to the MotorCities Story of the Week Program.

For further information on photos please visit http://www.detroitpubliclibrary.org/ or email This email address is being protected from spambots. You need JavaScript enabled to view it. Please do not republish the story and/or photographs without permission of MotorCities National Heritage Area. (Bibliography: The McLouth Steel Corporation Detroit 17, Michigan; United States Steel Corporation. "Innovations" U. S. Steel innovations for the automotive industry.)

If you would like to contribute an article for the MotorCities newsletter, email This email address is being protected from spambots. You need JavaScript enabled to view it. or call 313-259-3425.
---