By Robert Tate, Automotive Historian and Researcher
Images courtesy of the National Automotive History Collection
Posted: 06.19.2017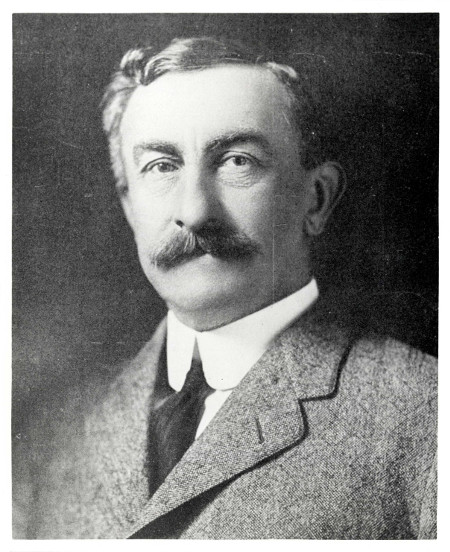 Henry Joy - longtime president of the Packard Motor Car Co.Henry Bourne Joy (1864-1936) was a prominent automotive industrial pioneer who took an under-funded yet promising auto company into a nationally renowned brand in the Packard Motor Car Company.

Joy was born in Detroit, Michigan on Nov. 23, 1864. His early education started at the Michigan Military Academy, and later he would continue his education at Phillips Academy in Andover, Mass. and Yale University. From an early age, Joy showed talent in math and science which were some of his favorites subjects.

Henry B. Joy and M.J. BudlongAs his journey would continue, Joy became Chief Boatswain's mate on the USS Yosemite during the Spanish war and he was a part of the Navy League of the United States. After two years of mining ventures in Utah, Joy returned to Detroit in 1889 and became associated with several of his father's companies. He found employment in the railroad business as the assistant treasurer and director of the Fort Street Union Depot Company.

His father, Mr. James F. Joy, was the president of the Michigan Contrail Railroad system. Henry also was a part of the Detroit street railway business and later would become involved with the development of many transportation methods for the city of Detroit.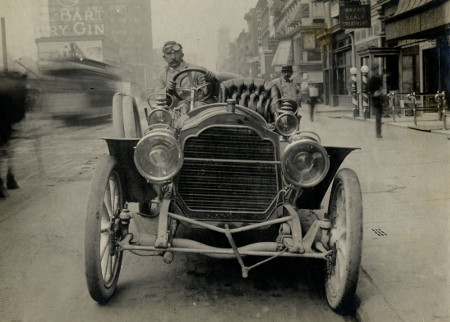 Henry Joy test driving an early Packard car.In 1901 after visiting a popular automobile show in New York with his friend and brother-in-law, Truman H. Newberry, the pair happened to see two Packard cars chase down a horse-drawn fire wagon and became intrigued. Henry bought the only Packard available in town, and was so impressed he arranged to meet founders of the Ohio-based auto company – brothers James Ward Packard and William Dowd Packard.

Henry arranged a group of Detroit-based investors to fund expansion of Packard cars and moved the company to his hometown, Detroit. The investment group obtained majority ownership of the company in 1902 having owned roughly 2,750 shares of stock. In 1903, Henry became general manager for the Packard Motor Car Company. In 1908, he succeeded J. W. Packard as president and remained at the head of the company from until 1916.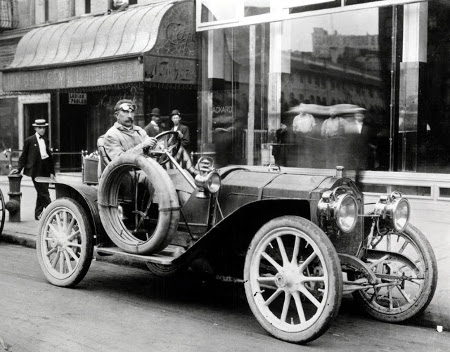 Henry Joy in an early PackardUnder Henry Joy's leadership as president and also board chairman, the Packard Motor Car Company had become one of the nation's largest and more prestigious automobile manufacturers. The Packard automobile quickly became a popular car among American motorists prompting the need for mass expansion in Detroit.

In January of 1903, 66.4 acres of land on West Grand Boulevard was purchased for $19,434 dollars to build the massive and now infamous Packard Plant. Famed architect Albert Kahn – who, at the time, was a relative unknown – was commissioned to design the great and historical landmark building.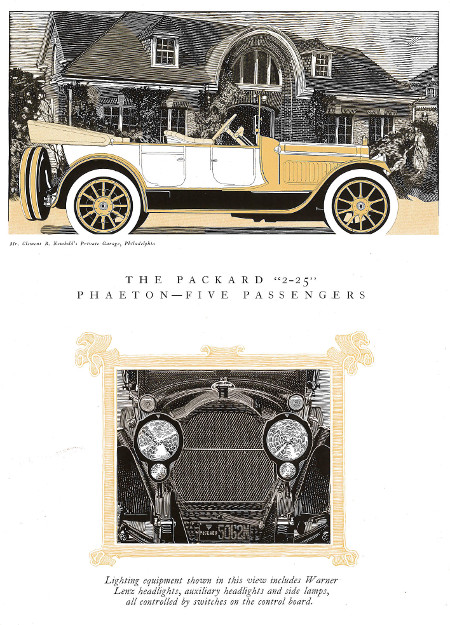 The Packard automobile at the time sold very well and was recognized as one of the nation's best automotive brands. Packard sales reached 1,406 in 1907 and then 2,290 in 1912 under Joy's time as president of the company. In 1916, Henry Joy resigned as president but would continue as board chairman.

As his Packard days were winding down, Henry became president of the Lincoln Highway Association having voiced the need for a coast-to-coast highway as well as improved road conditions and infrastructure. For example, Henry Joy wanted the United States Government to build a border highway all around the United States working in the same manner that the Panama Canal was constructed.

Joy's advocacy for a national system of highways helped create our modern U.S. highway system. At the time, Henry wanted to take the matter entirely out of the hands of Congress and he wanted to have the road mapped out and constructed entirely by the U.S. Army Corps of Engineers. Mr. Joy's past legacy supported a great vision toward the awakening of the country to the need for improved road conditions during the early days of automobile transportation.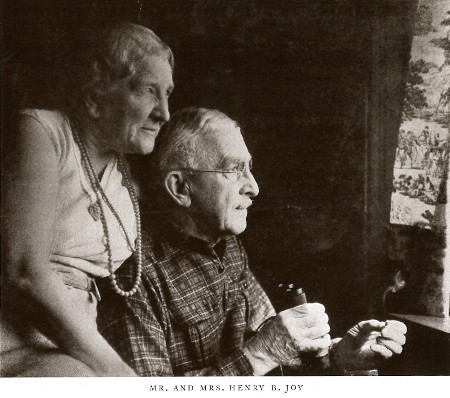 In conclusion, while Henry B. Joy may be best known for his time at the Packard Motor Car Co., he gave his time to many projects over the years such as being involved with the American Liberty League. On Nov. 6, 1936, Joy died of a heart attack at his home in Grosse Pointe Farms, Mich. Today, many historians will always remember his great contributions to the auto industry.

For further information on photos please visit http://www.detroitpubliclibrary.org/ or email This email address is being protected from spambots. You need JavaScript enabled to view it.. Please do not republish the story and/or photographs without permission of MotorCities National Heritage Area. (Bibliography: Kimes Rae Beverly/ Bailey L Scott. "Packard A history of the Motor Car and the Company" Automobile Quarterly Publications 1978.)

If you would like to contribute an article for the MotorCities newsletter, email This email address is being protected from spambots. You need JavaScript enabled to view it. or call 313-259-3425.
---