By Robert Tate, Automotive Historian and Researcher
Images courtesy of The National Automotive History Collection
Posted: 11.12.2017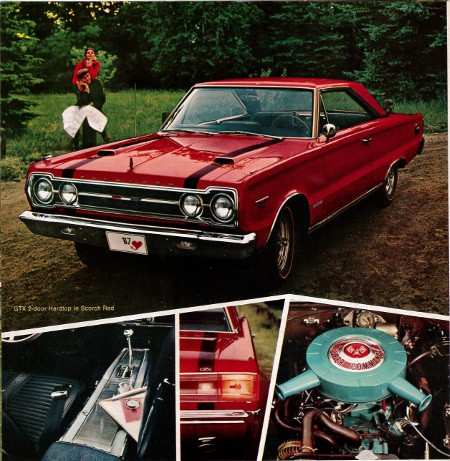 Plymouth GTX 1967This story is about the exciting and great looking models that Plymouth introduced to the public for model year 1967.

The 1967 Plymouth line offered the consumers newly sculptured body designs along with a dramatic new roof design for its Fury models. In that same year, Plymouth introduced a new high performance car for its Belvedere series and new styling for its economy Valiant models. All Plymouth cars except the Barracuda models became available for sale in dealer showrooms on Thursday, Sept. 29, 1966, but Plymouth executives decided to save the sporty and redesigned Barracuda models for a late November unveiling.

Those new and exciting 1967 models were highlighted by a great advertising campaign using the slogan, "Plymouth is out to win you over this year." The campaign started on Jan. 4 1967 and was even touted by the great Bob Hope on TV and the Chrysler Theater along with radio host and singer Eydie Gorme (1928-2013). The campaign was a huge success and it was publicized like no other sale in Plymouth's history.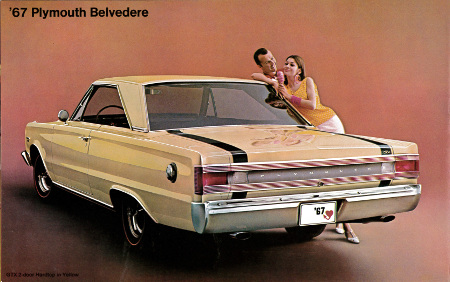 Plymouth Belvedere GTX 1967Two new models were added that year In 1967 with the intermediate size Plymouth Belvedere. They were the high performance GTX and the economy two-seat Belvedere station wagon. The new GTX models became available as either a convertible or a two-door hardtop and became very popular amongst drag racing circles. Those models in fact became favorites of the famed Sox & Martin racing team.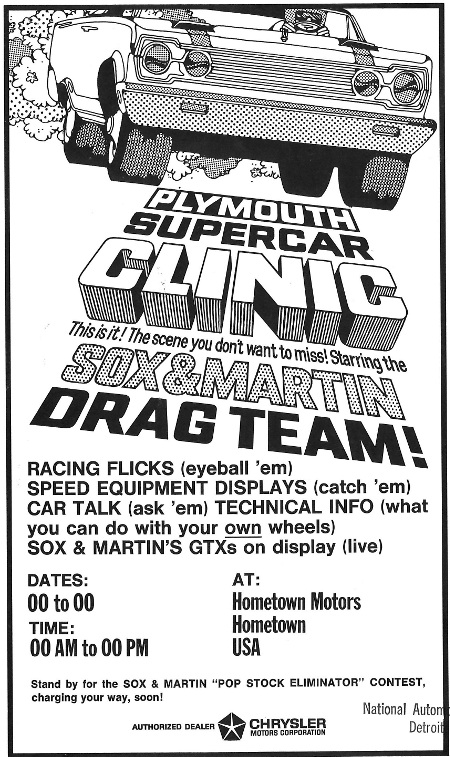 Sox & Martin Clinic AdvertisingThe new model was designed from the ground up as an integrated performance package. The standard engine was the performance tuned super commando 440-cubic inch V-8 equipped with four-barrel carburetor dual exhaust, special camshaft and a two snorkel air cleaner which many Plymouth fans thoroughly enjoyed. Buyers could also order the GTX model with an optional 426-cubic inch Hemi-V-8 engine with dual four-barrel carburetors that became very popular. The car cost $3,178 and offered twin paint stripes on the rear deck that was optional for the consumer at the time of purchasing.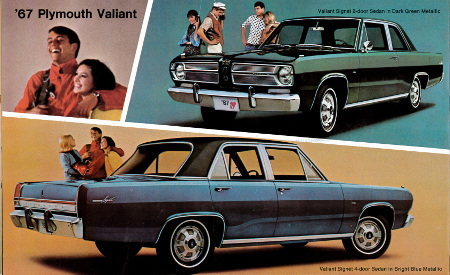 1967 Plymouth ValiantAnother popular Plymouth model for 1967 was the Valiant Signet. The Plymouth Valiant models were the lowest priced vehicles that the company offered but still offered great styling and great features. The 1967 Valiant models were wider and roomier with an extended wheel base for a smoother ride. The 1967 Valiant was available in 16 single exterior paint colors and 14 two-tone combinations. The body sculpture was strongly defined to give a long, lean look in appearance. The 1967 Valiant interiors had combined spaciousness with rugged yet well styled fabrics and trim. These new models were designed and marketed to the young family man or the homemaker in need of a second car.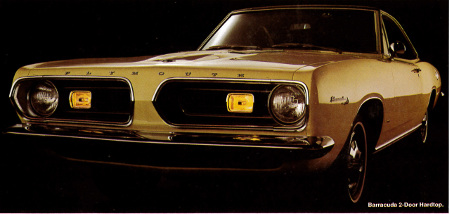 1967 Plymouth BarracudaFor 1967, the Plymouth Barracuda models was restyled with many great features that many consumers had admired. This new sporty car was available in a hardtop and fastback models along with a convertible introduced in December of 1966. The Barracuda models were designed to compete within the small sporty car market with models such as as the Ford Mustang and the Chevy recently announced Camaro. Each of the three Barracuda models - fastback, hardtop coupe and convertible - had completely new bodies with aerodynamic styling that attracted many buyers. There were 30,110 models manufactured for 1967 with a base price of $ 2,720.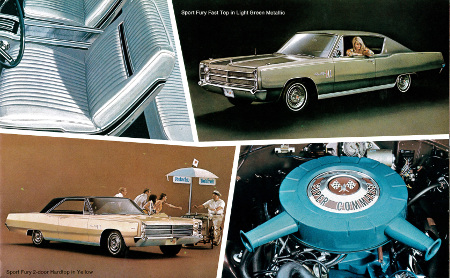 1967 Plymouth FuryThe 1967 Plymouth Fury models were also great looking cars for 1967. These cars offered that contemporary styling look that became very popular for the consumer auto industry. The models offered great looking body side designs that featured that sharp, sculptured look. The new horizontal tail lamps were very popular along with the sporty roofline design. The Fury models were manufactured in I,II III Sport fury and the VIP models as well. The Sport Fury and VIP two-door hardtops, these two series models had shared a new close-coupled roof design with a semi-fastback profile. One of the most popular models in Plymouth's line was the Fury III four-door hardtop that had attracted many customers.

In conclusion, the 1967 Plymouth line offered many great styling features. As a kid growing up in the 1960s, I remember these great looking cars very fondly.