By Robert Tate, Automotive Historian and Researcher
Images courtesy of kaisercarart.com
Posted: 07.24.2017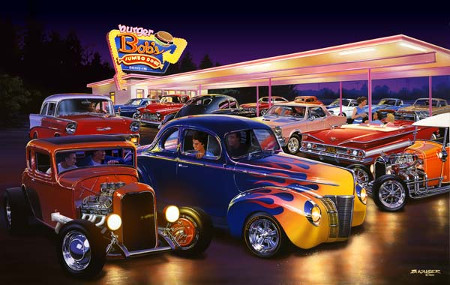 A longtime fan of automotive heritage and muscle car culture, artist Bruce Kaiser has inspired a generation of auto hobbyists and art collectors from his early days as an advertising illustrator and graphic designer.

In fact, Kaiser cited the great Syd Mead as one of his favorite inspirations. Mead's projects include the concept art for the sci-fi cult classic "Blade Runner" and other films.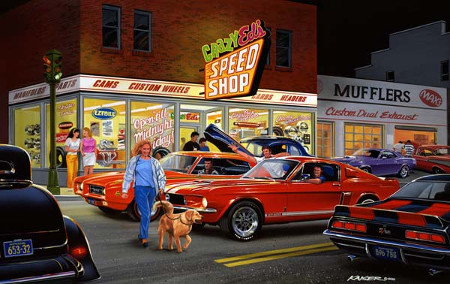 I have always been a big fan of Bruce Kaiser's great automotive illustrations. His artwork has helped to capture the true feeling of automotive heritage and the great experiences from our youth when it comes to muscle cars.

Over the years, Kaiser has collected quite a following with his vivid depictions of 1950s and 1960s auto nostalgia from the Woodward Avenue drive-ins to the Saturday night sock hops. Kaiser's work has generated many fans and admirers from around the world whom have thoroughly enjoyed his great works of art.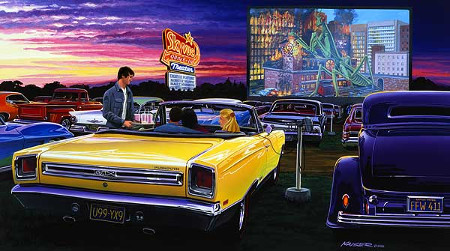 Kaiser's journey into the automotive history books started at the young age of 5 when his parents took him to the 1963 Grand Prix in Watkins Glen, New York. This event was the touchstone moment when he auto racing became a lifelong passion. Kaiser graduated from the Art Institute of Boston and immediately went into advertising as he started to build an impressive portfolio.

Kaiser's passion as an artist is focused on creating great looks of art that reflect the "American Graffiti" era when the muscle cars rumbled up and down Woodward Avenue from the Totem Pole to Hedge's Wigwam and back. Kaiser illustrates large-format paintings in gouache or acrylics that capture the quality of his work showcasing the speed and excitement that many automotive enthusiasts thoroughly enjoy.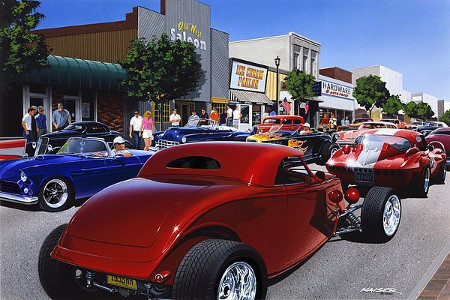 Throughout his long career, art collectors have praised Kaiser's work. He first exhibited his work with the Hot Rod Heritage Fine Art Exhibit at the Las Vegas SEMA show, where he has since been a feature artist. Kaiser has also been featured as part of the Gallery Automania Hot Rod Heritage Art Exhibit in Rochester, Michigan.

Some of his more recognizable works include "Jim Hogg County," which served as the cover for the first Street Rodder magazine, and his cover illustration for the book, "Road Rockets." Some of his other great pieces include "Sammy's Playground," "Woodward Avenue," and many more. Kaiser once said that his piece depicting muscle cars hurtling down Woodward Avenue in front of the famed Totem Pole drive-in was one of his fastest selling of all time.In addition, some of his recent work on science fiction and aerospace designs was published in the "National Space Society" magazine.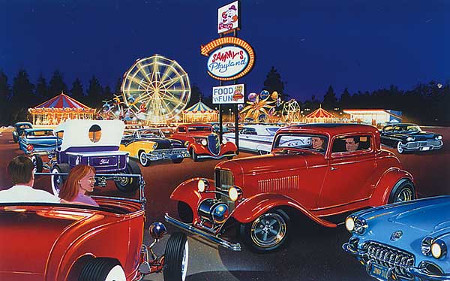 In conclusion, Kaiser now celebrates a career over the past decade as a great automotive illustrator and a muscle car enthusiast. He has also created graphics and beautiful automotive murals for racecars that many car collectors and enthusiasts have come to admire.
For more information on the great artist Bruce Kaiser or where you can order his prints, please visit the website www.kaisercarart.com or call 518-406-5351.

For further information on photos please visit http://www.detroitpubliclibrary.org/ or email This email address is being protected from spambots. You need JavaScript enabled to view it.. Please do not republish the story and/or photographs without permission of MotorCities National Heritage Area.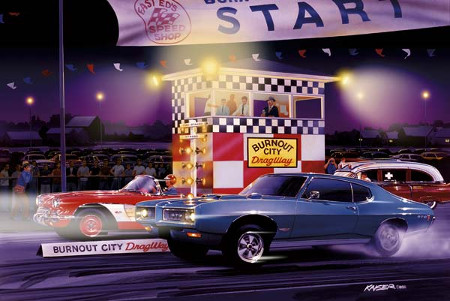 If you would like to contribute an article for the MotorCities newsletter, email This email address is being protected from spambots. You need JavaScript enabled to view it. or call 313-259-3425.
---