By Wayne Ferens
01.04.2017
James J. Couzens was one of the original 12 investors in the Ford Motor Company and on June 16, 1903 those investors filed articles of incorporation for their new business. Couzens borrowed heavily, invested $2,500 in the firm and was appointed secretary of the Board of Directors. He eventually took over business management of the new company for a salary of $2,400.
Couzens was born in Chatham, Ontario, Ca., in 1872; the son of soapmaker James and Emma Clift Couzens. He attended public school in Chatham and spent time attending a business college. Always ambitious and looking for opportunity, he moved to Detroit in 1890 and soon became employed as a railroad car inspector for the New York Central Railroad.
Couzens' diligence at the railroad was noticed in 1897 by Mr. Alexander Y. Malcomson, who hired the young man as a clerk and book keeper in his Detroit coal business. Malcomson also became an investor in the new Ford Motor Company (NB: The articles of incorporation for Ford were signed in Malcomson's office in downtown Detroit).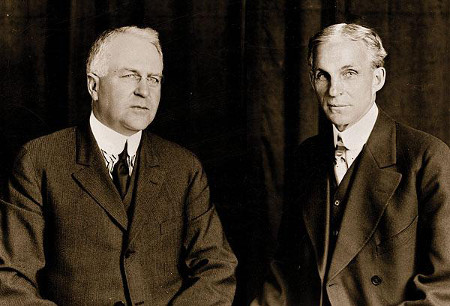 In those early years the Ford Motor Company under Couzens direction opened a new factory in Detroit on Piquette Avenue, expanded the product line, increased production, added suppliers and established a dealer network all under the watchful eye of the tough, austere, headstrong, and sometimes cranky, James Couzens.
In 1906, Couzens became vice-president and general manager of the firm. For 13 years it was only Henry and James Couzens that had ever been permitted to touch the reins of authority within the company. Both men having similar and dominant personalities would have clashes of temperament that would over time cause more and more friction between the two. It was a trivial but heated argument on the subject of pacifism that drove Couzens to the point of offering Ford his resignation on October 14, 1915, but retained a seat on the board.
During his time at Ford, Couzens became quite wealthy from stock dividends, often entertained the idea of one day getting into politics and was always active in the community. He was president of the Bank of Detroit and director of the Detroit Trust Company. He was commissioner of street railways and commissioner of the metropolitan police department. In 1919, he was elected mayor of Detroit.
When Ford introduced the Model T there were approximately 200,000 motor vehicles on the road according to the Auto Club of America (AAA). When Couzens resigned from the Ford Motor Company six years later that figure ballooned to around 2 million. The 50,000 automobiles in Detroit, as in other cities, were causing havoc and congestion due to the fact no controls were in place to manage the auto and pedestrian traffic. Most of the drivers of those automobiles were unlicensed, and many were teenagers or younger that were hired to run delivery trucks around the city. It was well known that Henry Ford built his son, Edsel, his own car so he could drive himself to elementary school.
In 1917 the Detroit region now had 65,000 cars and those cars were involved in 7,171 accidents and 168 deaths. Three-quarters of those fatalities were pedestrians, and many were children who often used the streets as a playground. The public was turning its anger against the automobile and the motorist. Someone had to take control and make some sense of this highway carnage and that someone was James J. Couzens.
Couzens, while observing and studying traffic flow in and around Detroit was alarmed at what he witnessed. People would cross streets when and wherever they decided. Motorists didn't know how to make left hand turns, and there were no stop signs so every driver felt he or she had the right of way.
Particularly hazardous were the streetcar riders would jump off their railcars - right into the path of an oncoming vehicle. Couzens was so upset he quickly assembled a team that identified traffic problems, put a plan together to mark lanes in the road, installed stop signs at intersections, placed signage for one way streets and added traffic signals. What James Couzens accomplished in Detroit began to spread across the country and slowly roads would be divided up for cars, streetcars and pedestrians. States began requiring drivers to be tested and licensed. By the mid-1920s Detroit would be recognized as one of the most innovative cities in the country for traffic management and safety. Detroit also led the nation in reducing accidents and the fatality rate.
James Couzens didn't stop there, In 1919 he sold his share in Ford Motor Company back to Henry Ford for the sum of $30 million. Couzens was appointed November 29, 1922 as a Republican to the United States Senate to fill the vacancy caused by the resignation of Truman H. Newberry. He served until his death on October 22, 1936.
Still locally active and in his 50's James Couzens began donating much of his wealth to civic causes, especially those relating to children. He established the Children's Fund of Michigan with a $10 million grant. Other donations, funds and relief established by Couzens included the Bath School Disaster, relief to the physically handicapped, University of Michigan and Children's Hospital of Michigan to name a few. James J. Couzens passed away from kidney failure at age 64, and despite their differences his old friend and business partner Henry Ford was the lead pall bearer in Senator Couzens funeral. He is buried at Woodlawn Cemetery in Detroit and was inducted into the Automobile Hall of Fame in 2012.
Wayne Ferens is retired after a 45 year career in the automobile business that included General Motors, Ford Motor Company, Honda Motor Co. and new car dealer. Auto history is one of his passions and has written much about the industry. He is presently a SAE Board Member.
---