By Russell Dore
Posted 04.28.2017
In 1914, Detroit lumber dealer Frederic Sibley asked a nearby blacksmith, August Fruehauf, to build him a trailer. Sibley wanted something to transport his sailboat to his summer home on Higgins Lake.
The prospective trailer needed to be compatible with Sibley's Model T roadster. Fruehauf designed a unique trailer that had no front wheels and attached directly to the Model T, which was modified by removing the rear seat. It worked so well that Sibley ordered the same trailer built to deliver lumber. He was so impressed with Fruehauf's work, he ordered several more and thus the semi-trailer was born.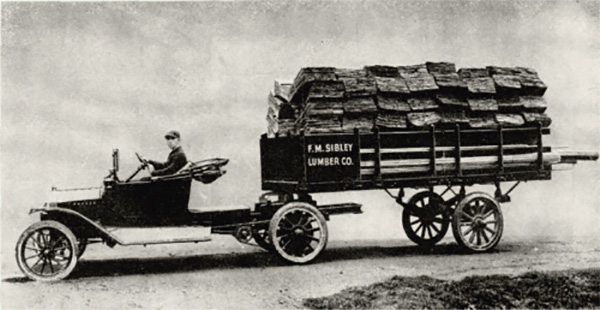 A picture of August Fruehauf's lumber trailer he built for lumber baron Frederic Sibley.
Like Henry Ford, August Fruehauf focused on quality and reliability, and led the industry from the beginning. Also like Henry Ford, Fruehauf eventually brought his son into the business. His son Roy led the company beginning in 1949, and built it into an international enterprise.
Fruehauf maintained international leadership in the semi-trailer industry for more than 70 years. Truck manufacturers supplied the power unit, which was referred to as the tractor. The tractor-trailer became the primary means of hauling long distance freight around the world.
Semi-trailers were developed in several configurations including vans, platforms, tankers and dumps. The Fruehauf Corporation added other products such as truck bodies and equipment, and entered the shipbuilding and dockside crane business. It also acquired Kelsey- Hayes – a major wheel and brake manufacturer in Southwest Detroit.
In 1979, Fruehauf was 131 on the Fortune 500 list. Fruehauf's company, however, never lost its focus on its initial product – the semi-trailer.
The Trailer Division had more than 100 U.S. sales and service branches and over a dozen manufacturing plants. Its international trailer operations included both company-owned units and licensees in more than a dozen countries.
In 1986, corporate raider Asher Adelman attempted a take-over of the company. But Fruehauf bought back the stock at an inflated price which saddled the company with a huge debt. The company went bankrupt in 1997, and the corporate trailer operations were purchased by Wabash National of Indiana. Fruehauf trailers are still manufactured by independent licensees in several countries including France, Mexico, New Zealand, Japan and Turkey.
In trucking circles, the name Fruehauf will always be remembered as the pioneer of the industry. It never would have happened if August Fruehauf had not developed his innovative boat trailer attached to a Model T for Frederic Sibley. August Fruehauf was recently inaugurated into the Automotive Hall of Fame.
Russell Doré is a member of the Stewardship Council of Motorcities. He was Director of Human Resource Development for Fruehauf from 1979-1989, and established the Fruehauf Institute which provided leadership training to managers and supervisors throughout the company. Doré was also instrumental in the company's donation of the orange 1946 Fruehauf trailer which is currently on display at the Henry Ford Museum. For additional information on Fruehauf history see www.singingwheels.com.
---