By: Robert Tate
Photos courtesy of the National Automotive History Collection
Posted: 03.07.2016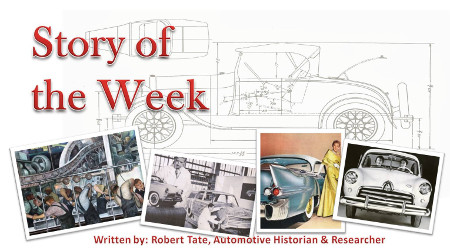 Janet Guthrie was a young women who made automotive racing history by becoming the first female to drive into the history books at the Indianapolis 500 and Daytona 500 auto races.

The history of professional racing has shown it to be a male-dominated sport, however, women have also made great strides in having taken part in many great racing events.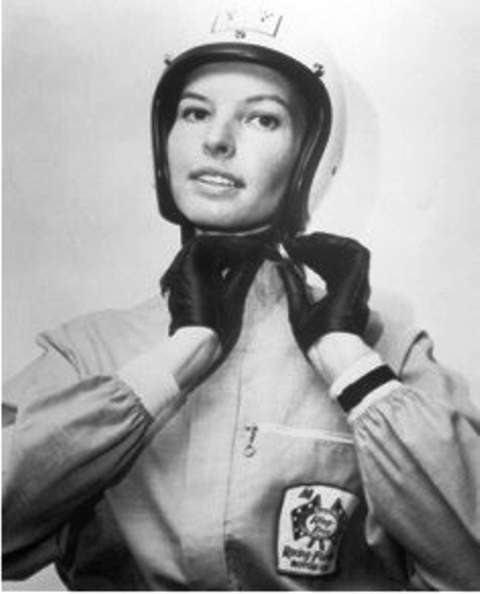 Racing legend Janet Guthrie was born March 7, 1938, in Iowa City, Iowa. Guthrie started out by racing many popular Jaguar racing models (XK-120) while working as an aerospace engineer during the 1960s.

By the 1970s, her passion would continue making her compete for her rightful place on the race track of becoming one of America's best drivers.

Racecar driving is one of just many passions for Guthrie who holds a bachelor's degree in physics from the University of Michigan. Guthrie is also an experienced pilot which she had thoroughly enjoyed for many years. She began to fly at the age of 13.

In 1964, Guthrie, was competing and had won two "Sports Car Club of America" races. In 1976, she was the first female to compete in the NASCAR Winston Cup stock car racing event. Then in 1980 she received the award for the "Women's Sports Hall of Fame reconnection, which was a moment of pride in her storied career on and off the track.

During her early career, Guthrie said this about her early attempts at racing, "I had become even more deeply involved in racing. Racing had pretty much taken over my life. It was becoming the next great adventure."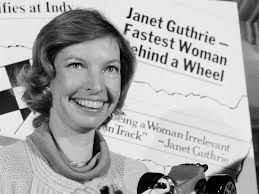 Throughout her great career, she was also an excellent auto mechanic having taught herself by disassembling and reassembling her Jaguar race car. Guthrie put the car back together bolt by bolt. piston by piston and part by part. She had learned the automotive trade process very well.

Guthrie, at the age of 28, had become a great and competitive full-time professional driver. By that time she had faced and overcame many of the challenges of being in a male-dominated sport, but her final challenge was to win a championship.

During her career, Guthrie had received much support and praise for her competition and determination on becoming one of the best race car drivers in the world. One of the most talented and famous race car drivers who supported Guthrie, was A. J. Foyt. Foyt during a pre-race qualifying at Trenton had surprised Guthrie with a friendly and pleasant visit. It was their first meeting together and Foyt supported her right to receive proper recognition for her auto racing experience and talent.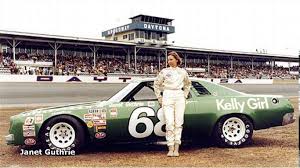 The year 1977 was good to Guthrie. She had made automotive history by becoming the first female to race at the popular Indianapolis Speedway. Number 27 was her identification number that had placed her within the racing history books. She qualified, and then raced. It was a memorable day and an historical event for women.
When the green flag came down, the desire to win unfortunately wasn't enough to overcome a slew of mechanical problems forcing Guthrie from the race.

Another factor that Janet had to deal with was the fact that sponsorship money was still hard to find but she continued to race on the NASCAR trail and she had qualified for both the Pocono 500 and the California 500 in 1977.

Guthrie had raced in 19 NASCAR races and was very proud to be considered for "Rookie of the Year" racing awards. As her career would continue on the track, the Texaco Company supported her with a budget of more than $100,000 to purchase a car and hire a crew for 1978. With this backing she could either succeed or fail and the failure and credit would have been hers alone.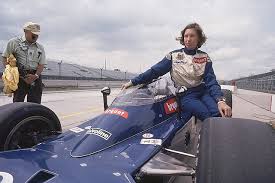 Guthrie entered the 1978 Indianapolis 500 race with her great looking racing model the "Texaco Star," she was excited and ready for this great event. It was a memorable day and exciting for Guthrie's career as she raced passed the 400,000 people who were jammed along the grandstands and the infield area of the old 2.5 mile track.

It has been said that many of the racing fans had come to see if a women driver, Janet Guthrie, could last and be a competitive driver at the big race. As she raced the "Texaco Star' down the track and into the history books, Guthrie finished in ninth place becoming a winner in the top ten category.

Guthrie accomplished a few milestones that day by being the first female driver to not only finish the race but making the top 10. She also holds the distinction of being the first female driver to qualify for both the Indianapolis 500 and the Daytona 500.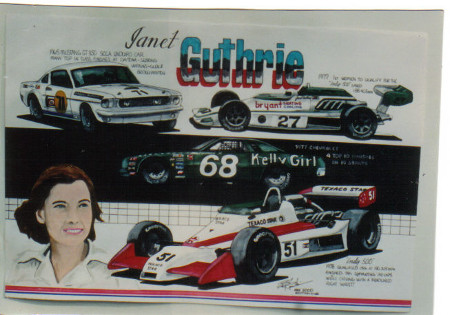 A special thanks to Robert Tate, Automotive Historian and Researcher, for contributing this story to the MotorCities Story of the Week Program. (Bibliography: Olney R., Ross. "Janet Guthrie first women at Indy," Harvey House Publishers; New York 1978.)

For further information on photos please visit http://www.detroitpubliclibrary.org/ or email This email address is being protected from spambots. You need JavaScript enabled to view it. Please do not republish the story and/or photographs without permission of MotorCities National Heritage Area.