By: Robert Tate, Automotive Historian/Researcher
Images courtesy of Harold Cleworth's portfolio
Posted: 10.13.2015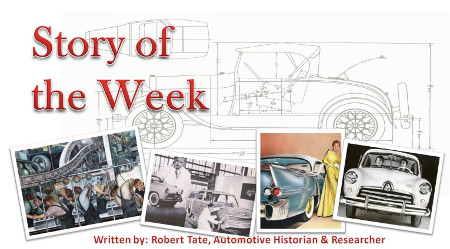 One of the most successful and talented automotive artists of our time is Harold James Cleworth.

I have admired Cleworth's great works of art for many years. The amazing colors and magnificent craftsmanship depicts Harold James Cleworth works of art as being unique. Sometimes when you're looking at his illustrations you actually think you're looking at a real vehicle. Cleworth is one of the most respected and gifted automotive illustrators in the world.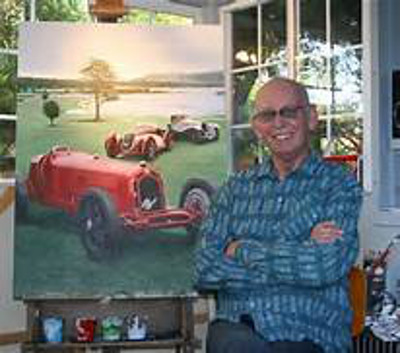 Harold James Cleworth worked with many auto companies both domestic and foreign (Photos courtesy of Harold Cleworth's portfolio).Cleworth's journey started in England when he was introduced to machinery and the aesthetics of how things worked at an early age. The area in which Cleworth grew up in was located in industrial northern England. Harold Cleworth at the beginning of his career said "I knew I would be an artist".

Early on, Harold had received his graphic art degree from Manchester College of Art in 1967. He later moved to London where he worked for Decca Records illustrating the great album cover designs for the popular rock groups such as the Rolling Stones and The Who. Later, he met with many other talented individuals who had encouraged him to move to the great city of San Francisco and to become an artist/painter.

Later, Cleworth developed a great passion for automotive history and design. He decided to start his own automotive illustrations career that many people have thoroughly enjoyed. In the beginning as his career got started, Harold had traded his great works of art sometimes for his rent. However, his landlord at the time was very much impressed with his great illustrations that she decided to accept his great works of art/paintings for an entire year of lodging that they both had agreed upon.

Cleworth got his big break when he was asked to paint a 1950s Mercedes Gull Wing

Cleworth's first real automotive illustration work came when he was commissioned by a San Francisco car dealership owner named Richard Rubin.

Rubin commissioned Cleworth to illustrate a beautiful painting of a classic 1950s Mercedes Gull Wing automobile with its signature Gull Wing design with its open doors that many people really liked and enjoyed.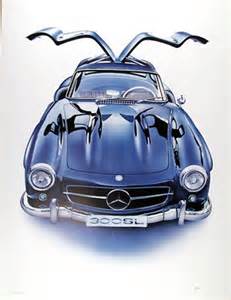 Cleworth's depiction of a 1950s Mercedes Gull Wing stands as one of the most realistic auto illustrations in the worldThe Mercedes Gull wing painting has become very popular among collectors to this day and stands as one of Harold's Cleworth's great signature pieces of classic art. The illustration was admired by many collectors and enthusiast and later, others would soon follow with more commissioned contract assignments for beautiful illustrations of automotive classic designs. Cleworth's medium that he often used is acrylic paint with vibrant colors which is very easy to work with.

His style is realistic, and people have said that his great works of art looks like photographs. The illustrated work by Cleworth points toward his fondness for things that are big and beautiful.

Later in his career, Cleworth would receive many contracts from a number of huge corporations to commission great works of art and automobile designs. For example, Bugatti's, Duesenberg, Packard, General Motors, Ford, Lincoln, Isuzu and many other name plates became famous works of art that was printed on high gloss and high quality poster paper.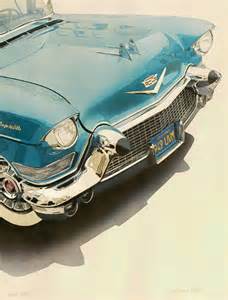 An illustration of a 1957 Chevy by Harold CleworthDuring the 1980s, Cleworth produced a very nice lithograph of a Mustang Cobra that was titled "Showroom Condition" that received many great reviews and awards. The image became so popular that it had to be recreated just to keep up with its high demand of sales. It was popular among great artist and automotive enthusiasts all over the world.

In 1993, the Ford Lincoln/Mercury Dealers of California commissioned Cleworth to illustrate the new 1993 Lincoln Mark VIII painting for a billboard advertising display along with 500 limited edition prints that were sold to collectors. Today, some of his original art work has sold for upwards of $30,000 to $100,000. However those made by using a special technique are sold for a fraction of the cost.

Harold Cleworth has had many great exhibits throughout his career and many popular events for example the "2014 Pebble Beach Concours" along with a great poster that was created for the LA and Chicago Auto Shows and the annual "Newport Beach Concours D' Elegance," at which he was an honorary judge. Cleworth, is also an Automotive Fine Arts Society member.

In conclusion, Harold Cleworth, has made his exciting dreams come true by painting great works of automotive art for collectors and enthusiast all over the world. Over the past 40 years, more than 1,000 original paintings by Harold Cleworth have become part of public and private art collections worldwide. A historian and collector as well as an artist, his paintings portray the history of America's transportation and architecture.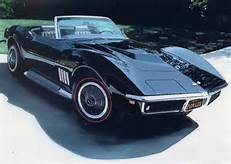 A classic Corvette illustrated by Harold Cleworth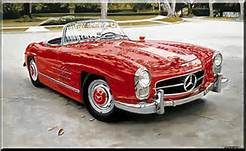 A depiction of a 1950s Mercedes Benz by Harold Cleworth A special thanks to Robert Tate, Automotive Historian and Researcher, for donating the story to the MotorCities Story of the Week program. Photographs are courtesy of the National Automotive History Collection. (Bibliography: The Louis Chevrolet Memorial, Indianapolis Motor Speedway; Automotive News. "A Century Of Chevrolet:The Stories That Shaped An Icon" Commemorative Edition October 31, 2011.)

For further information on photos please visit http://www.detroitpubliclibrary.org/ or email This email address is being protected from spambots. You need JavaScript enabled to view it. Please do not republish the story and/or photographs without permission of MotorCities National Heritage Area.