By: Robert Tate, Automotive Historian/Researcher
Images: courtesy of Robert Tate's collection
Posted: 03.11.2015
As we take a look back at the automotive heritage of Ford Motor Company's early design department in the 1930's, we find that the journey began with the late Edsel Ford. Mr. Ford established the Ford Design department in March of 1935. It was at that time, the late Mr. Eugene Bob Gregorie was selected as its department manager. Mr. Gregorie was born in 1908 and his first career assignment was at the naval architectural firm of Cox and Stevens where he learned the techniques of drafting and the design of hulls for yachts. At the age of 19, he left that firm to become a Yacht designer for the Electric Boat Company. Mr. Gregorie was a great sketch artist whom Mr. Edsel Ford had come to admire along with his great talent for design.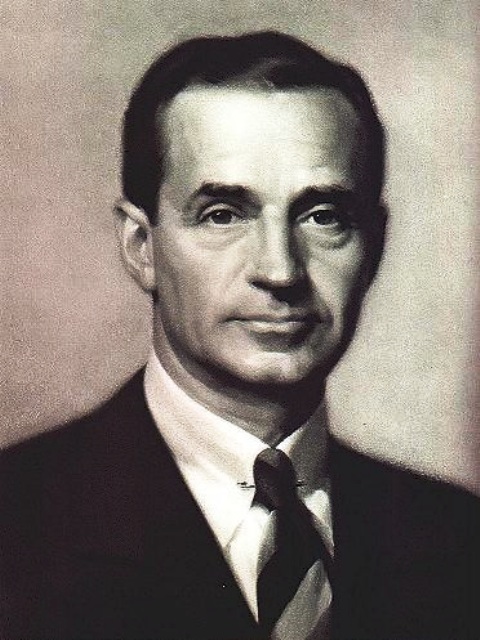 Edsel Ford
During the 1930's, most of the design work or proposals were first approved by Edsel Ford only. Gregorie started at Ford Motor Company as a body designer during January 1931. The 1930's were a time when many Americans were experiencing the Great Depression. However, Gregorie and Edsel Ford became quite friendly with each other because of Mr. Ford's love for boats. In 1932, Edsel Ford asked Gregorie to design and supervise the building of a special car for his personal use. It had an aluminum body and it was called the Gregorie Roadster. Another popular automotive design that made automotive history was the development and design of the 1934 model 40 Special Speedster. It should also be noted that in 1929, Gregorie was hired by Harley Earl and worked in General Motors Art & Colour section, however short-lived.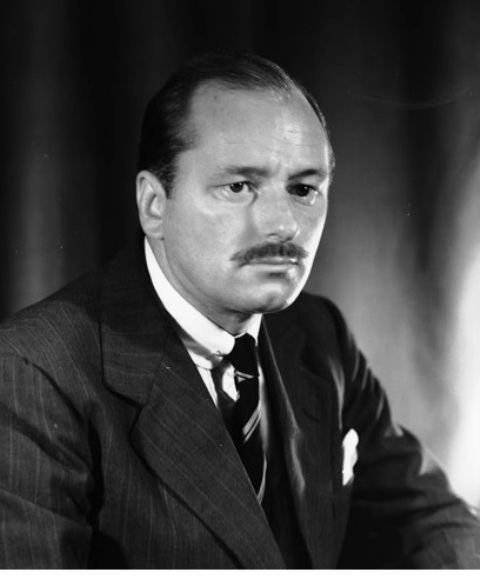 Eugene Bob Gregorie First Ford Designer
In 1932, Mr. Edsel Ford noticed that Lincoln was in trouble with sales because of the Depression and conceivably could not survive unless it could manufacture and produced a game-changing automobile for the consumer market. The first design assignment was given to the great designer Mr. John Tjaarda, who was with the Briggs Body Company. At that time, a prototype was developed and was shown at the 1934 Chicago Century of Progress. The feedback from the public was very negative toward the front end appearance of the design and the location of the engine behind the rear seat. Edsel later spoke with Gregorie to revise its front-end design. In 1936, the Lincoln Zephyr was introduced as the first successfully designed streamlined car in America by the New York Museum of Modern Art. The consumers thoroughly enjoyed the Lincoln Zephyr models and sales did increase in the automotive market.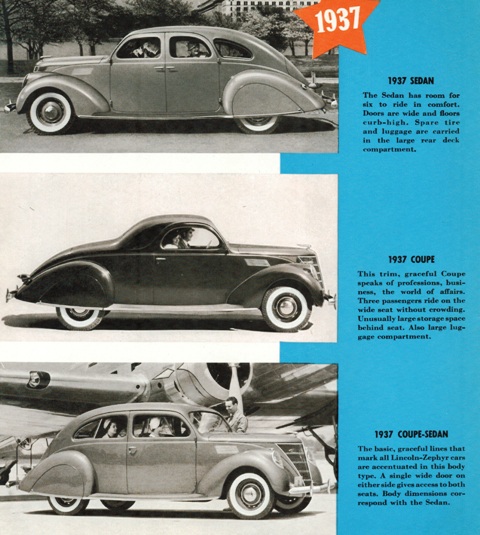 Lincoln Zephyr 1937
During the 1930's, Gregorie had assembled 12 talented men and introduced the design of making full size clay models for future design proposals. The design team's first completed new body design was the 1937 Ford model. The 1937 Ford styling models contained many great design elements that added character to the innovative Lincoln Zephyr models. 1937 was the year that Edsel Ford and Gregorie along with their engineers and designers all began discussing new Ford products that would be priced between the Ford and the Lincoln Zephyr models. Gregorie was the first individual at Ford Motor Company that held the title "Designer". Gregorie would later introduce the styling bridge to Ford, a device he used while drafting ship-hull designs.
As the Ford design department continued to grow, more stylists were needed and hired to design vehicles. In 1937, Mr. John R. Hay was hired in October along with Mr. George E. Bud Adams. Mr. Adams was born and raised in Detroit and he was the son of a Ford tool and die maker. In 1946, he became one of Ford's leading chassis and suspension engineers. In 1938, a special model was being developed in the Ford Design Department that would make history as one of best designed models that was manufactured by the Ford Motor Company. Other talented designers included Mr. Bennie Barbera, Mr. Martin Regitko, Bruno Kolt John Najjar. The first female designers at Ford styling were Ms. Leota Carroll, Ms. Doris Dickason, Beth O' Rourke amongst many other talented individuals.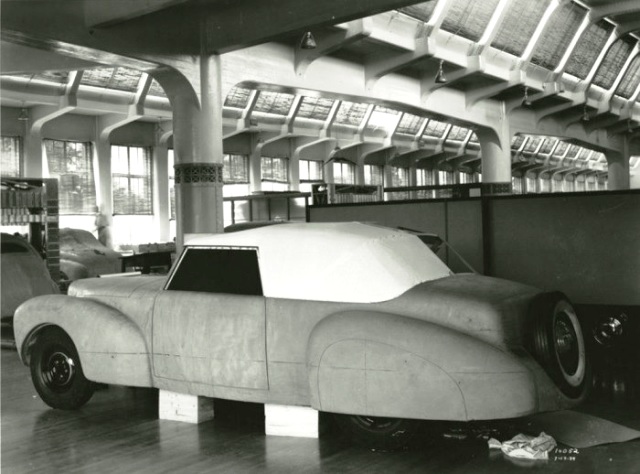 Full size Clay Model for Lincoln Continental
In November of 1938, Eugene Gregorie had one of his designers bring him a one-tenth scale side view blueprint of a Lincoln Zephry sedan model. Taking a crayon pencil, he began to sketch lines over the blueprint design giving it a lower hood design along with a lower roof-line dropping the seats as much as six inches and adding a small bustle trunk design with the spare tire mounted outside its rear. This design strategy started with a conversation between Edsel and Gregorie about producing a sporty model Lincoln automobile. Later, Gregorie showed Edsel the new sketch design of the Zephyr model and Edsel was very impressed with what he saw. Not long after that, a one-tenth-scale clay model painted in gunmetal gray was available for review; this was Edsel's favorite color. Edsel said "Let's not change a thing! I wouldn't change a line on it." At that point, automotive history was made.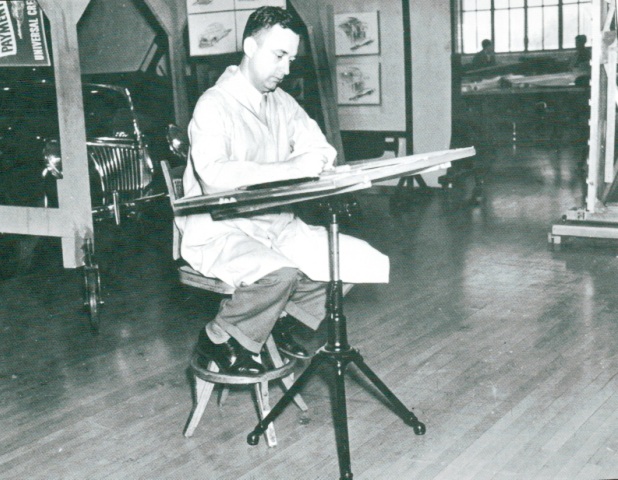 Ford Design Department Studio
In conclusion, after Edsel Ford's death in 1943, Henry Ford resumed control of the company and a number of changes were made. Mr. Gregorie's design staff was cut in half and placed under the direction of the engineering department. Gregorie, who had strongly disagreed with Mr. Ford about certain factors, was later fired. Ironically, he was later hired back with an increase in pay by Mr. Henry Ford II. Eugene Gregorie went on to establish the post war studio designs for the company.
A special thanks to Robert Tate, Automotive Historian and Researcher, for donating the story to the MotorCities Story of the Week program. Photographs are courtesy of Bob Tate's Collection. (Bibliography: Farrell Jim & Cheryl "Ford Design Department Concept & Show Cars 1932-1961" 1999. Lamm Michael & Holls Dave. "A Century Of Automobile Style 100 Years Of American Car Design". 1996-1997.)
Please do not republish the story and/or photographs without permission of MotorCities National Heritage Area. If you would like to contribute an article for the MotorCities newsletter, email This email address is being protected from spambots. You need JavaScript enabled to view it. or call 313-259-3425.