By: Robert Tate, Automotive Historian/Researcher
Images courtesy of the National Automotive History Collection
Posted: 10.19.2015

When you look back at the early days regarding Ford trucks and its great history, some automotive/truck historians would possibly highlight the first Ford commercial vehicles that were produced in 1905.

Utilizing as many components as possible from the model C passenger cars, the models were later built as delivery vehicles for the transportation and shipping needs for the business community.

In the beginning, just 10 commercial models were produced. The models had a price tag of $950 and weighed 1,350 lbs. with a load capacity of 600 to 800 lbs. The early models were designed for just one driver.

The sales market for commercial delivery vehicles was strong right away across the U.S., the new trucks had built a better relationship with dealers and Ford.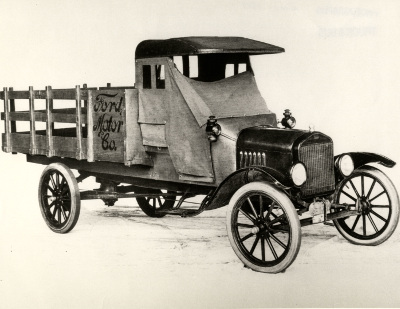 This 1917 Ford Truck featured a 1-ton chassis and a stake body. In 1917, Ford Motor Company entered into the truck business. This was the year that history was made by announcing the beginning of a 1-ton chassis production unit on July 27.

The popular Ford truck would now become a household name which was admired by many as sales were aggressively increasing. The first image in this story shows a 1917-18 Ford 1-ton truck chassis that was outfitted with a stake body for the Ford Motor Company's own internal use.

The model TT was introduced to the public with a great success story that followed. The 1920s through 1930s were great years for the Ford Motor Company truck divisions. By 1920, conversion kits for Ford had declined in popularity due to the availability of the low-cost Ford truck models. In 1925, Ford introduced the first closed cab model which was designed for the model TT chassis to the public on April 29, 1925. The models featured plate glass windows along with front door windows which could be raised and lowered for the driver as well as the passengers.

During the Great Depression-era 1930s, Ford truck sales remained steady despite the financial hardship that many were experiencing in America. Ford maintained its first place position in U.S. truck sales during the model year 1930.

In 1937, Ford offered a unique styling truck that was ideally designed for fruit merchants. It was an open-sided model with covers in place and a streamlined line van body designed which many vendors, including Ford, found to be valuable for commercial transport. The great looking model is a part of this story (second image).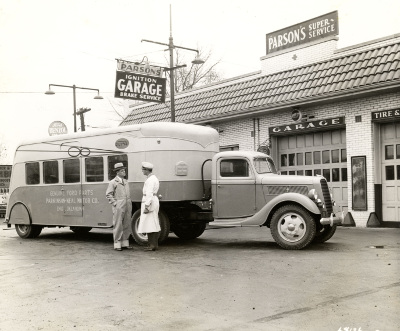 This 1937 model became very popular with fruit vendors and others with commercial transport needsDuring the 1940s, Ford model truck designs began to change with new Sealed-Beam headlamps in fenders and new, sweeping front end lines, the 1940 Ford V8 panel models offered great styling for its consumers.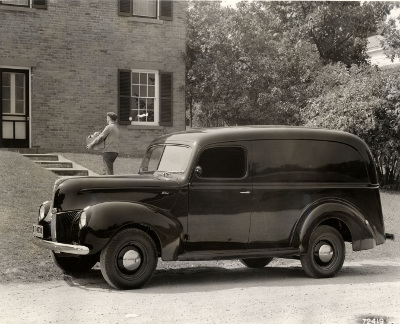 In the months immediately preceding Pearl Harbor, Americans were getting ready for the unfortunate war time efforts. And on Feb. 10, 1942 when Ford Motor Company stopped production of its vehicles, the company had manufactured 30 million cars and trucks plus 1 million tractors for the consumer market.

Ford carries on toward future after war ends

After the war had ended, the 1950s was decade of great designs and styling changes for Ford trucks.

In 1953, Ford introduced a signature line to its Ford cars/trucks. The 1953 Ford trucks models were the most significantly changed trucks since 1935. That was also the year that Ford celebrated its "Golden Anniversary" year which was an historical event that is now a part of our automotive heritage and history books which was a great success story.

In 1953, Ford had called their popular redesigned Cab models "Driverized" along with their huge promotion campaign at the time called the "15 Second Test" where consumers could drive the new and exciting models for comparison. Many consumers who test drove the new Ford products, at the time were very impressed with the new interior design of the new 1953 Ford truck models.

In 1954, Ford offered more truck for your money. The 1954 models advertising slogan referred to the 1954 truck models as more economic, power along with drivers savings and with new money making capacities for the consumers. The 1953 to 1956 truck model design offered the same body style and in 1957, a new model design became available. Not pictured as a part of this story is one of my all-time favorite designs which is the 1957 Ford Ranchero along with the F-100 series.

In 1957, Ford introduced a top of the line Ford tilt cab line which was the C900 series. This model offered a timeless design which was used and manufactured for decades by consumers and is still very popular today. In 1964, Ford trucks offered a very popular deluxe Club wagon that could carry eight passengers. The last truck that is a part of this story was a truck that was designed for tomorrow. In 1964, Ford unveiled a long-haul truck which offered a 600-horsepower gas turbine engine which was designed for the future. It was developed by Ford to meet transpiration requirements that was anticipated for the 1970s. However, the experimental truck was never mass produced.

In conclusion, Ford trucks will always have a special place in automotive history.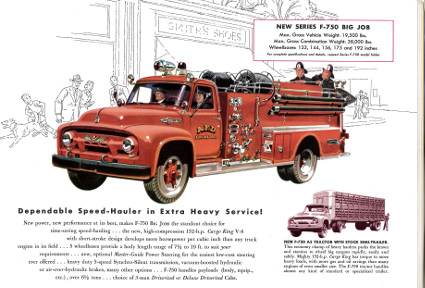 Advertisement for a 1954 Ford Firetruck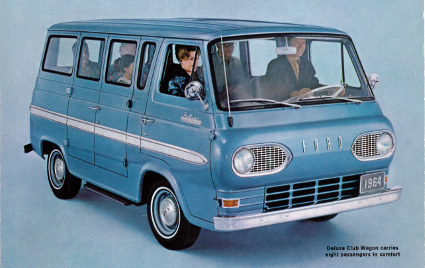 A 1964 Ford Deluxe Club WagonA special thanks to Robert Tate, Automotive Historian and Researcher, for donating the story to the MotorCities Story of the Week program. Photographs are courtesy of the National Automotive History Collection. (Bibliography: Wagner K. James, "Ford Trucks since 1905" Motorbooks International.1994; McLaughlin G. Paul. "Ford Heavy-Duty Trucks 1948-1998 Photo History" Iconografix 2001.)

For further information on photos please visit http://www.detroitpubliclibrary.org/ or email This email address is being protected from spambots. You need JavaScript enabled to view it. Please do not republish the story and/or photographs without permission of MotorCities National Heritage Area.