By: Robert Tate, Automotive Historian/Researcher
Images: Courtesy of Robert Tate's collection
Posted: 02.24.2015
One of the most influential painters and muralists of the twentieth century was the late Mr. Diego Rivera (1886-1957). Born on December 8, 1886 in Guanajuato, Mexico, Diego Rivera's artistic journey started at the age of ten with the beginning of his extraordinary talent and interest in painting. He studied art at the San Carlos Academy of Fine Arts in Mexico City. During his youth, Mr. Rivera was influenced by Jose Posada, who at the time ran a print shop near Rivera's school. Other great influential artists included Mr. Paul Gaugin and Mr. Henri Matisse.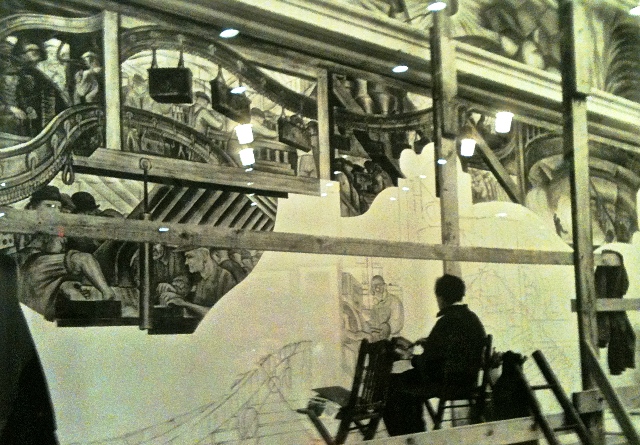 In 1907, Rivera traveled to Europe to further his education in diverse art forms that would later support his memorable career as an Artist. Diego Rivera wanted to make the art that he created a reflection of the lives of the working class and native people of Mexico. Throughout his early career, he developed a keen interest in murals during a trip to Italy, finding inspiration in the Renaissance frescoes there. When he had returned to Mexico, Rivera began to express his great artistic perception of Mexico city and the people there. He received funding from the Mexican government to create and paint a series of murals about the country's people and heritage on the walls of public buildings. During the beginning of the 1930's, Rivera went through a slow period in terms of workflow. He had no major mural commissions around this time. So, he devoted himself to painting in other art styles.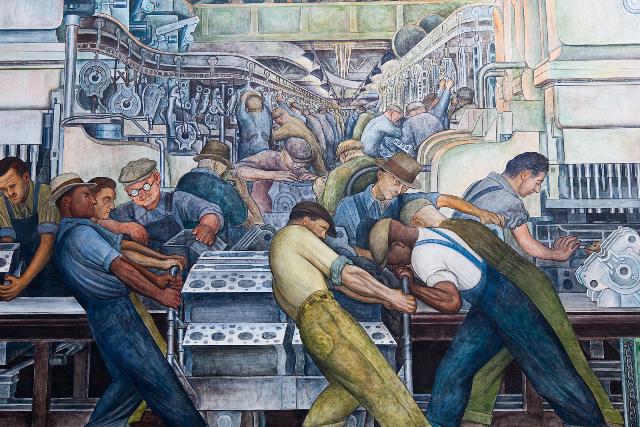 This story is about Diego Rivera and his world-renowned murals hand painted at the Detroit Institute of Arts. Each portion reflects some element of the automotive industry during the Great Depression era yet provokes thought around a greater message. In 1932, the late Edsel Ford, son of Henry Ford and President of Ford Motor Company, along with the late Mr. William Valentiner, who was the Director of the Detroit Institute of Arts, commissioned Mr. Rivera to paint two murals for the museum's Garden Court. The only stipulation given to Diego was that the work had to relate to the history of Detroit and the development of its industry.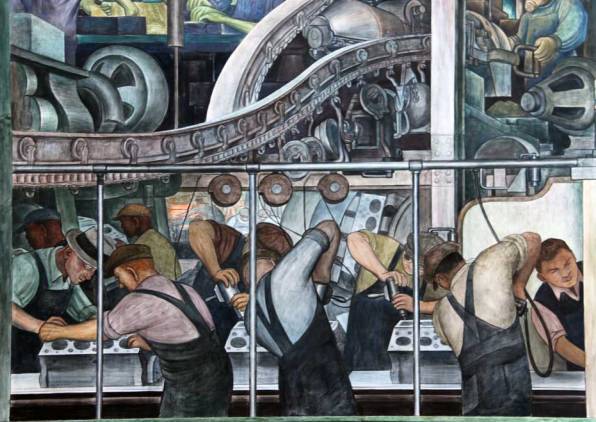 Mr. Rivera and his wife, painter Frida Kahlo, arrived in Detroit and began studying and photographing the Ford Motor Company plant on the Rouge River. The Rouge Manufacturing Plant inspired Rivera so much that he suggested painting the commissioned mural on all four walls of the beautiful Garden Court. Edsel Ford and William Valentiner agreed and soon Mr. Rivera's commission was expanded. For the preliminary designs, Rivera spent about a month to draft them. Rivera started painting in July of 1932. The murals reflected images of the powerful assembly lines which were made famous by Ford Motor Company. Other images included office workers and airplanes, boats and agriculture, as well as workers of different races working side by side together.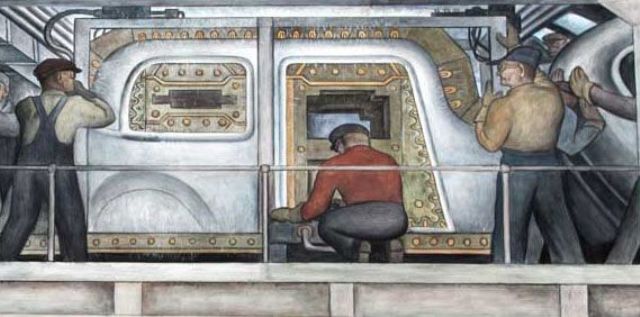 During the 1930's, the country was in the midst of the Great Depression and some individuals questioned why a Mexican Artist had been chosen over an American painter. However, the late Edsel Ford, patron of the murals, never publicly responded to the outcry of Rivera murals. He only issued a simple statement saying, "I admire Rivera's spirit. I really believe he was trying to express his idea of the spirit of Detroit". The images are iconic and illustrate assembly workers with tools raised in a frozen moment of a manufacturing processing time that will be looked upon by many generations to come. Between 1932 and 1933, Mr. Diego completed the world's famous series of twenty-seven fresco panels entitled (Detroit Industry) on the walls of an inner court at the Detroit Institute of Arts located on Woodward Avenue. Over the years, thousands of people have had the chance to see this great mural of beautiful art.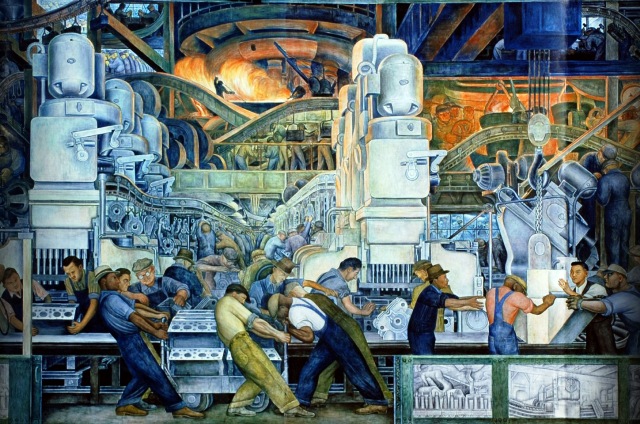 In 1954, Diego's health was declining and although he searched far and wide for treatment of his cancer, the doctors were not able to find a solution or cure for him. On November 24, 1957, Mr. Diego Rivera died in his Mexico City home from heart failure. After his death, Diego Rivera became one of the most popular artists of all times. In fact to this day, he is still one of the most well known and renowned muralists in the world. Diego Rivera captured the hearts of many Americans in his famous murals of Detroit's industry. We honor his legacy with this story.
A special thanks to Robert Tate, Automotive Historian and Researcher, for donating the story to the MotorCities Story of the Week program. Photographs are courtesy of Bob Tate's Collection. (Bibliography: Aguilar, Louis. "Detroit was muse to legendary artist Diego Rivera and Frida Kahlo", The Detroit News. April 6, 2011. Dammann H. George. "Illustrated History of Ford" 1970.)
Please do not republish the story and/or photographs without permission of MotorCities National Heritage Area. If you would like to contribute an article for the MotorCities newsletter, email This email address is being protected from spambots. You need JavaScript enabled to view it. or call 313-259-3425.