By: Robert Tate, Automotive Historian/Researcher
Images: Courtesy of Robert Tate's Collection
Posted: 07.01.2015
Richard J. Landy was one of the best automotive Stock Car/Drag racing drivers in the country during the 1960s and 1970s.
His memorable career and performances covers nearly five decades of automotive racing. Racing fans from all over the world called him "Dandy Dick". He and the Sox & Martin racing team dominated their competition which included other racing groups as well as other manufacturers. The popular Hemi engine that was introduced by the Chrysler Corporation during the 1950s helped to launch Landy's racing career.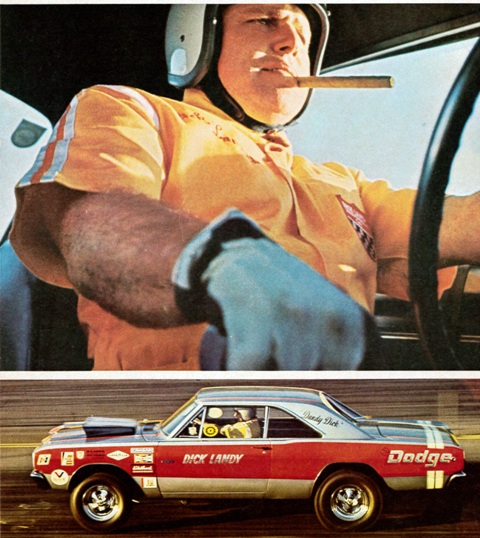 Landy quickly became a major competitor on the track and in the west coast. His reputation drove him right into the drag racing competitions and into the history books.

In 1965, Landy was chosen to receive one of the few altered wheelbase Dodge models during the early days of the National Hot Rod Association, or NHRA. However, the rule makers had a difficult time deciding if the new Funny Cars were a passing fad or a serious drag racing category.

Lundy was forced to drive Mopar bodies that were redesigned and sanctioned. For example, he drove a radically designed 1966 Dodge Dart. This vehicle featured a more sophisticated chassis and a considerably lighter racing weight that the 1965 Dodge full-size models. It was also powered by a Landy-built 426 Hemi engine. The new 1966 Dodge Dart proved itself quickly and with great results. Landy quickly began to enjoy his competitive edge in racing.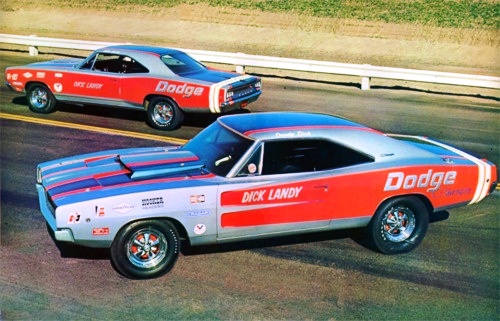 Landy's journey into auto racing would last until Ford's Lincoln Mercury Division raised the bar with the first of its fiberglass body models. During Landy's great career, his work as a great engine and chassis developer earned him respect from his competition within the automotive community of drag racing. The "Dandy Dick" name came from having the cleanest race cars and the clean, tailored uniforms that his crew presented at each racing events which created a polished image for his racing team.

As Landy's career would continue he caught the eye of Ronnie Householder's factory drag racing team. Householder was a top Chrysler drag racing development executive who recognized great talent within the field of auto racing. Landy made a lasting impression among the team and this created a good working relationship for everyone.

As Landy's career continued, he achieved his performance by reorganizing and showing that drag racing had become a major competitive sport which many people enjoyed. With nearly 20 million spectators who had attended many drag racing events, Dandy Dick Landy definitely has a growing fan base.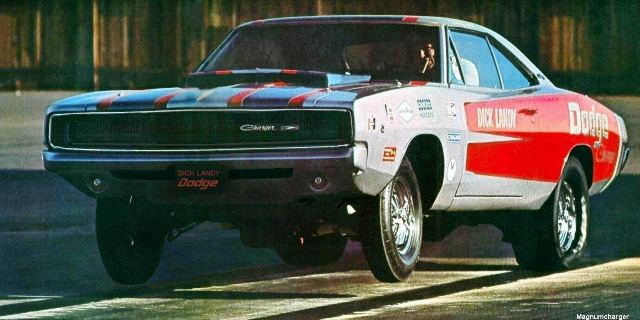 Landy also felt that drag racing was or should be a test between basic stock automotive machines on the track. Later, Landy had expressed interest in engaging more young people allowing them to know the procedures of drag/stock car racing. As a result, he began stock car drag racing campaigns and the beginning of his safety performance clinics.

Landy's clinics introduced students to lectures on engine tuning, movies on the history of automotive racing, driving techniques, and question-and-answer periods. The clinics were arranged through the Dodge dealership programs and were advertised around the country. Landy's clinic had become a great success for the Dodge dealerships as well as for Landy himself.

In 1968, Landy continued to lecture and he even demonstrated a guide for automotive racing and drag racing fans before nearly 160,000 people. Also in 1968, Landy earned the "1968 Car Craft Magazine All Drag Racing" award.

In 1970, the NHRA created the pro stock class and Landy was there to participate and demonstrate his great racing performances. Landy would continue racing until 1980, winning the NHRA pro stock national events, claiming the American Hot Rod Association world championship in both 1973 and 1974 and winning many other races across the country.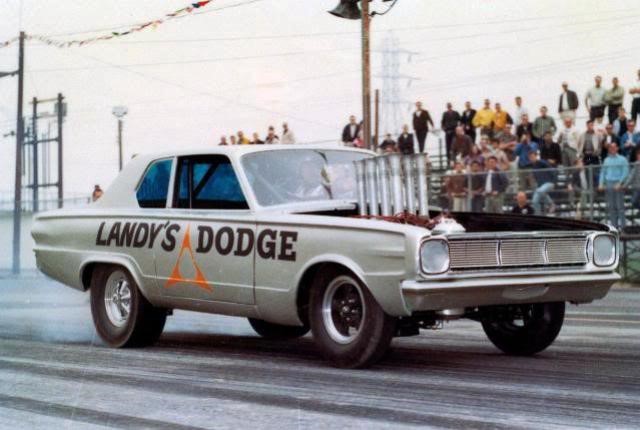 The NHRA was started by Waly Parks in 1951. The first nation NHRA-sponsored event was held in 1955. Unfortunately, Richard Landy is no longer with us; Mr. Landy died of kidney failure on Jan. 11, 2007, at the age of 69. However, his great legacy and contribution to auto racing will always be remembered by future race-car generations to come.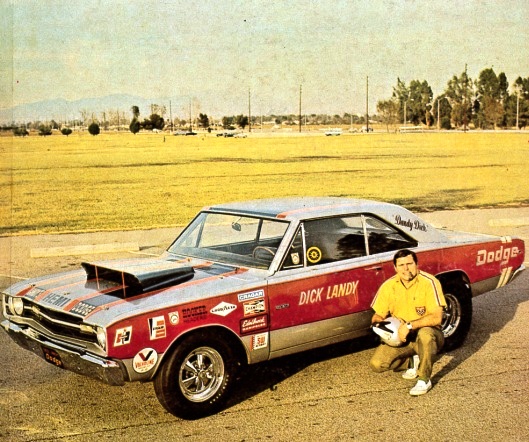 A special thanks to Robert Tate, Automotive Historian and Researcher, for donating the story to the MotorCities Story of the Week program. Photographs are courtesy of Bob Tate's Collection. (Bibliography: Olney R. Ross. "Dick the Dandy Professor Dodge's Apostle of the Stocks". Dodge News magazine, April 1969.)

Please do not republish the story and/or photographs without permission of MotorCities National Heritage Area. If you would like to contribute an article for the MotorCities newsletter, email This email address is being protected from spambots. You need JavaScript enabled to view it. or call 313-259-3425.