By: Robert Tate, Automotive Historian and Researcher
Images Courtesy of the National Automotive History Collection
Published 11.4.2014
Chrysler Corporation's 1971 Plymouth Barracuda models were impressively-designed automobiles during the early part of the 1970s. At the beginning of this era, the Barracuda models also represented change offering exciting new designs and styling features. R.K. Brown (who was the Division General Manager) was quoted as saying, "Styling improvements and mechanical refinements for the coming year should make Barracuda a solid contender in its market segment."
The models introduced were the Barracuda, Barracuda Coupe, Gran Coupe and the Cuda. The standard Barracuda had three models: a sport coupe, the hardtop, and the convertible. The Luxurious Gran Coupe was available as a hardtop only, while the Cuda was introduced with two body types to choose from. With a price tag of $3,029, the Barracuda Sports Coupe was a more economical entry in the sports specialty market. The models were identified by Gran Coupe medallions near Barracuda signatures on the sides and rear.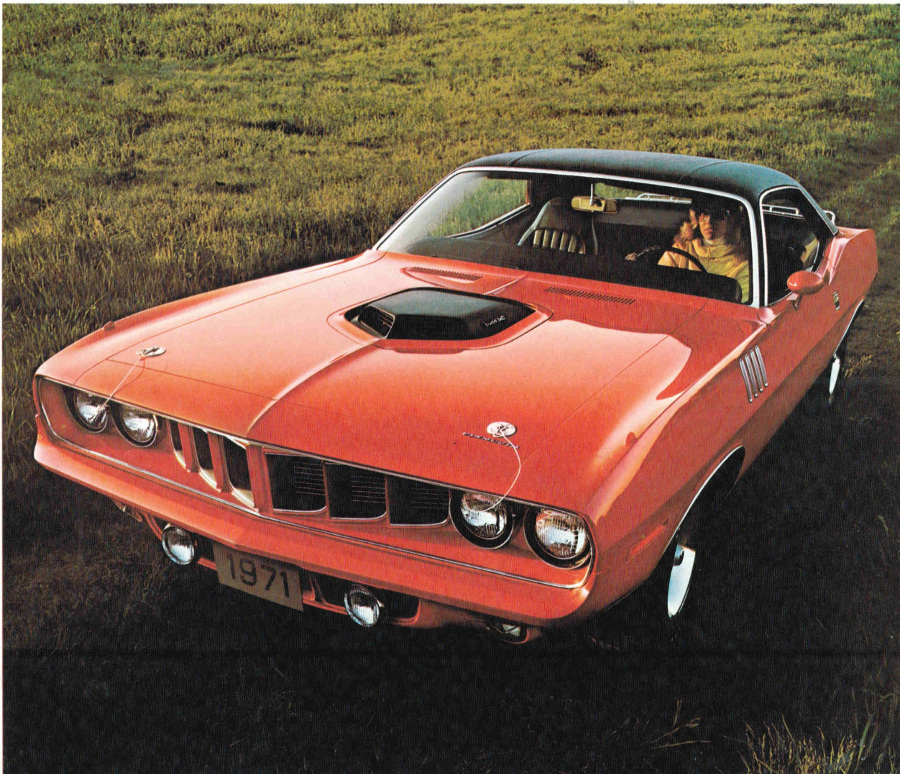 1971 Plymouth Barracuda
One of the most popular featured designs on the Barracuda models was a strong grille treatment featuring dual headlamps highlighting the new front end. The rear end design also featured a distinctive new tail lamp and back light design which were available for all Barracuda models. The design of the color-keyed racing mirrors were available for all models and were produced in several popular colors. The last convertibles for the Plymouth division were the '71 Barracudas.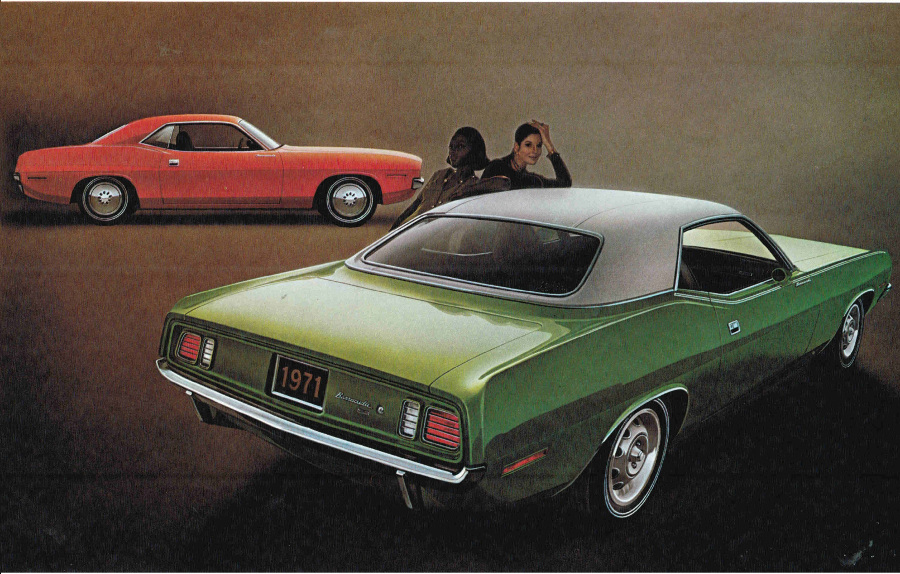 1971 Plymouth Barracuda Coupe Hardtop
Another popular feature offered in the Barracuda models was the 426 Hemi with a Shaker hood scoop, in addition to special suspension and racing mirrors that younger Plymouth fans really enjoyed. The 1971 Barracuda models offered comfortable and stylish interiors that were available in six colors, which included an all-vinyl split-bench seat with a center armrest for added comfort.
Chrysler in 1970-71 had a very creative design team that was responsible for the development of these great looking 1970-71 Plymouth Barracuda models. Some key designers were Elwood P. Engel and John Herlitz, who were under the direction of Dick Macadam. Macadam would later become Vice President after Engel retired from Chrysler in 1973. The 1970-1971 Barracuda models were shorter and wider than others, yet still were amazing looking automobiles. One of the more interesting variations was the mid-year AAR (All-American Racer) Cuda with a six-barrel 340 engine. This model became very popular with the American car culture and still is considered a collectible today.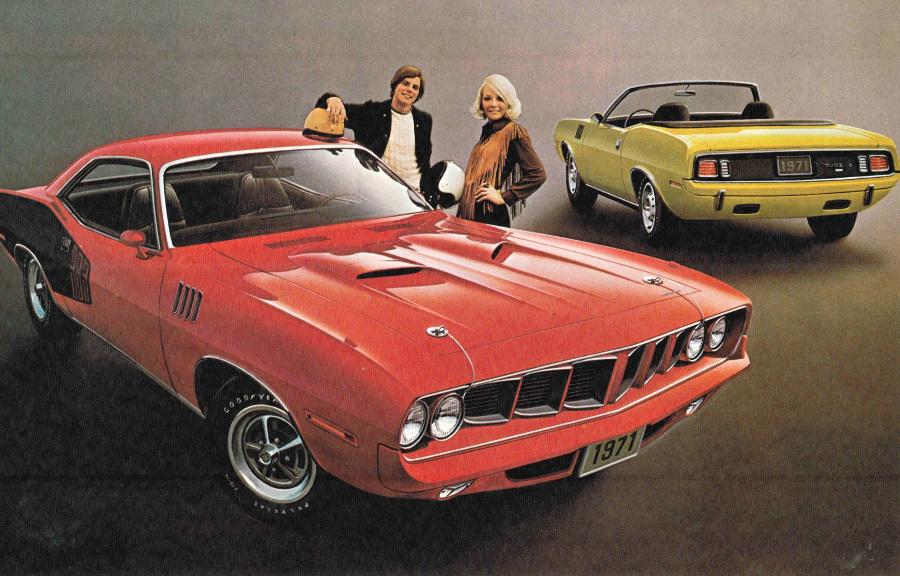 1971 Plymouth Barracuda Hard Top Convertible
The 1971 Plymouth Barracuda models also had many friends on drag racing tracks. Sox & Martin, for example, were great Cuda fans. In fact, many models that they used for racing were early 1970s Cudas. Barracuda models also offered significant optional packages such as Rallye wheels, rear spoilers for that tough look, and many others. There were 18 colorful Barracuda finishes, which included everything from optional Tor-Red to the popular Plum Crazy. Not only were the colors considered wild, most also thought they were cool to look at and admire. Consumers could also order a special vinyl roof or a unique striping finish to make the model complete.
Today, the Barracuda models are very rare and expensive vehicles. One of the rarest Chrysler models that recently sold at Mecum Auctions in Seattle, Washington was a rare 1971 Hemi Cuda convertible which sold for $3.5 million after eight solid minutes of bidding!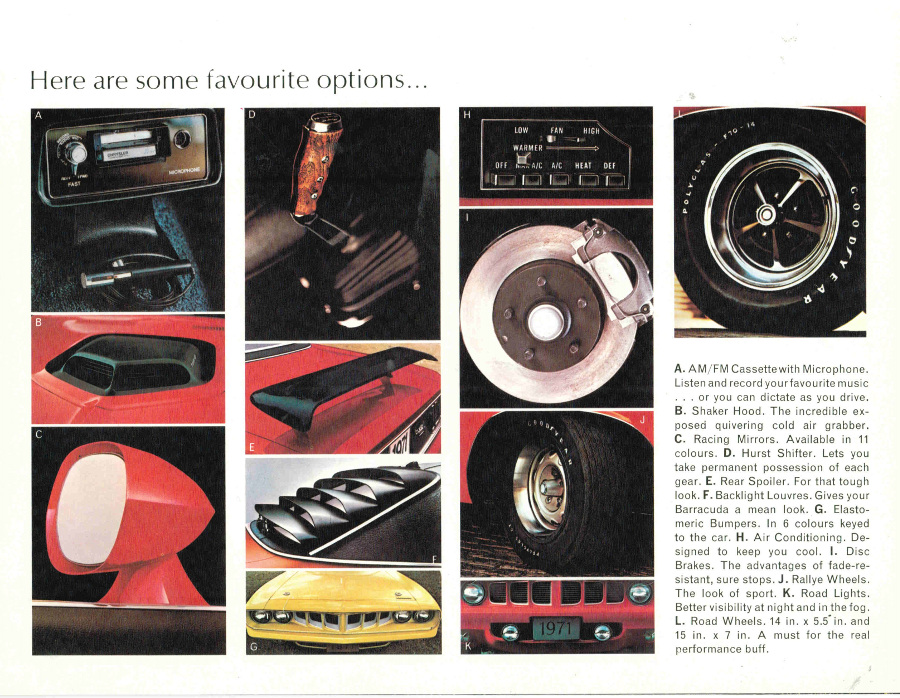 1971 Plymouth Barracuda Accessories
Ultimately, the 1971 Plymouth models did not fare very well overall in the sales market. They produced 9 percent less cars in this year where Plymouth would ultimately lose its number three position to General Motors' Oldsmobile brand. Nevertheless, the 1971 Barracuda models will always have a special place in automotive history.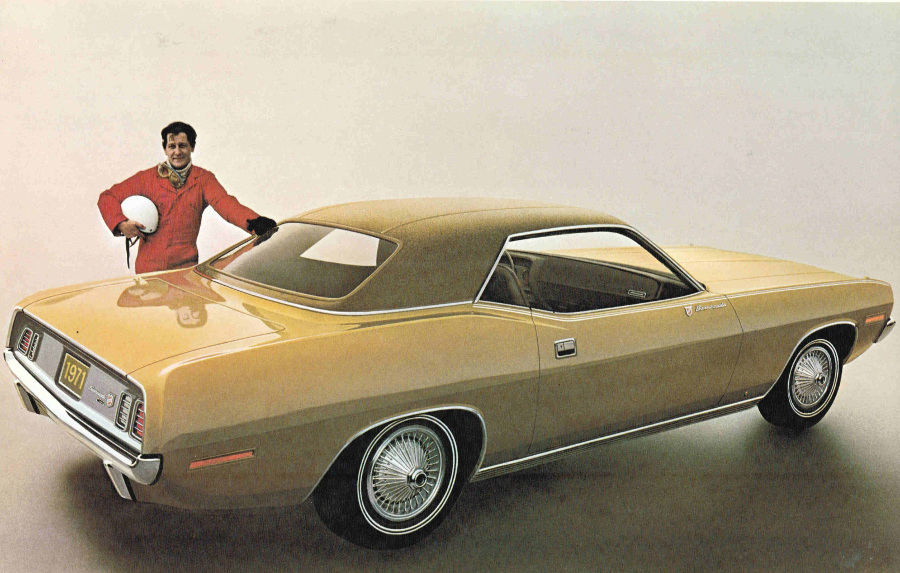 1971 Plymouth Barracuda Gran Coupe
A special thanks to Robert Tate, Automotive Historian and Researcher, for donating the story to the MotorCities Story of the Week program. Photographs are courtesy of the National Automotive History Collection. (Bibliography: Butler Don. "The Plymouth and De Soto Story" Crestline Publishing 1978. Lamm Michael & Holls Dave. "A Century of Automotive Style 100 Years of American Car Design" 1997. Lamm-Morada. Langworth M. Richard & Norbye P. Jan. "The Complete History Of Chrysler Corporation 1924-1985.)
For further information on photos please visit http://www.detroitpubliclibrary.org/ or email This email address is being protected from spambots. You need JavaScript enabled to view it.. Please do not republish the story and/or photographs without permission of MotorCities National Heritage Area.
If you have a story that you would like to donate to be featured as a MotorCities Story of the Week, email This email address is being protected from spambots. You need JavaScript enabled to view it.